A medically ready force serves Fort Hood troops
Story by Catherine Hosman | Photos by Mike Bartoszek and contributed by the U.S. Army
This past April the new Carl R. Darnall Army Medical Center at Fort Hood celebrated its first year in service, and in July welcomed the new Commander Col. David R. Gibson.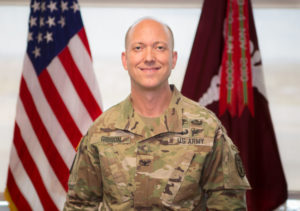 Gibson joined the army 30 years ago as an infantry soldier and was later commissioned as a Medical Services Corps officer. He holds several graduate degrees, certifications in business, and administration. He is process and systems focused and observant as he takes command.
"I'm taking over a large, complex organization," he said. "We are in the process of conducting a complete assessment to learn what is working and what might need improvement."
Gibson is in command of a medical center with 105 buildings, including clinical and administrative space, that are spread over Fort Hood, three local communities, and a clinic at the Red River Army Depot located in Bowie County, Texas, 18 miles from Texarkana.
He said they are using the McKinsey 7S Model across all service lines in order to better understand the current state, and chart the course for the future.
The McKinsey 7S Model is "A watershed model that addresses the critical role of coordination, rather than structure, in organizational effectiveness (www.mckinsey.com)."
"The 7S model includes strategy, structure, systems, shared values, skills and staff," he said.
When the new hospital opened its doors in 2016 it replaced the old Darnall Army Medical Center that served the Fort Hood community since 1965. Initially, the old hospital was designed to serve 17,000 soldiers. Today, the new medical center serves more than 100,000 beneficiaries, which includes active duty soldiers, their families and retirees.
From the moment a patient walks through the doors at CRDAMC, they are immersed in natural light coming through the two-and-a-half stories tall picture windows. The walk from the parking garage through the concourse to the front desk seems long, but the paintings, and three-dimensional artwork hanging high on the walls, adds an aura of serenity.
Gibson said the hospital was built with "evidence based design," which is the process of basing decisions about the built environment on credible research to achieve the best possible outcomes.
"EBD is an intentional uses of space, materials, lighting, placement of stairwells, and is intended to reduce stress on staff and patients," Gibson explained. "This 1.1 million square-foot building has more space, but the space is used differently and the cost structure is different. This creates challenges and opportunities. We are currently reviewing the whole healthcare delivery model."
Staying medically ready and ready medically
There is no objective more important than maintaining a medically ready force and a ready medical force, Gibson said. The hospital staff covers all specialties and is 25 percent active duty personnel. From young privates working in administration, pharmacy techs, medics and physicians, chances are patients will be getting their care from someone wearing a green uniform.
"These are clinical experts who must maintain their readiness skills when required to mobilize with operational units," Gibson said.
Gibson said 38 percent of soldiers who are patients in primary care clinics have musculoskeletal injuries from physical training. "This is a big population that is non-medically ready for deployment," he said. "They must be medically ready."
Injuries of this type generally take two weeks to 90 days to heal. Gibson said their goal is to reduce that time to 14.4 days with an interdisciplinary approach and an integrated care team through the SPARTA program — Soldier Peak Performance and Advanced Reconditioning for the Tactical Athlete."
"This would include a physical therapist, sports medicine physician or orthopedic surgeon," Gibson said. "Readiness is the Army's number one priority and we plan to optimize our integrated system for health to help achieve the goal of a medically ready force."
Community partnerships
This year CRDAMC formed a partnership with Texas A&M University Medical School to bring in residents to "leverage training in the hospital's simulation rooms," Gibson said.
On a mannequin simulator, residents will practice a variety of medical skills.
"We will have six residents this fall," Gibson said, adding that the Army has many agreements and partnerships in communities around the country.
"Students will be able to train in their specialty. It's a great opportunity. We take our partnerships seriously," he said.
Patient experience
Taking patient experience seriously is also an objective of CRDAMC and is now as essential to the patient as is his or her medical care. Doctors and nurses are listening more to their patients needs, extending empathy and compassion.
"This is essentially the core of the patient center care model," Gibson said. "It's an evidence based outcome, how we help people. When the physician goes on their rounds and sits down to talk with a patient about their situation, it sensitizes the doctor and helps us better connect with our patients."
One of CRDAMCs efforts to connect with patients is a monthly congratulatory meal for new mothers that offers choices from a steak dinner to vegetarian plate.
"The patients get so excited," said CRDAMC Public Affairs Officer Mikaela Cade. "Significant others are welcome but must pay $8 for a meal."
Keeping track of patient satisfaction is important to CRDAMC and patient responses can help put some money back in the coffers to invest back into staff and operation.
After each visit, a patient receives a survey to fill out and return. For outpatient visits it's the Joint Outpatient Experience Survey (JOES), and for inpatient stays, it's the TRICARE Inpatient Satisfaction Survey (TRISS).
"It's greatly important," Gibson said. "For JOES it's question 23, and for TRISS it's question 21. "When patients are totally satisfied with the care we provide we can earn up to $1,000 on the survey that we can invest in our services," he said. "We want to generate health and create wellness versus turning out widgets of health care."
Gibson said they are striving to make access to primary care easier for beneficiaries who can now book 80 percent of primary care appointments directly at www.tricareonline.com.
"I am so fortunate to be given the opportunity to add value to this great team at this great place," Gibson said. "I am very excited for our future and the opportunities ahead."