Story by Catherine Hosman | Photos by Mike Bartoszek
Bridgett Holmes, voluntary services specialist, for Olin E. Teague Veterans Medical Center at the Department of Veterans Affairs in Temple, is visiting the Community Living Center.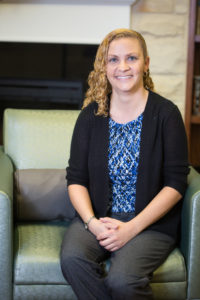 Holmes is responsible for the coordination of volunteers for the Central Texas Veterans Health Care System that includes facilities in Temple, Brownwood, Cedar Park, Bryan/College Station, LaGrange and Palestine. She also works with the Killeen Veterans Center.
On any given week she coordinates 150 volunteers to serve in different capacities at the facilities, and that number can grow into the hundreds for special events.
"I wouldn't put a number on it, but occasionally we need support to help with a special event," she said.
She said nine new patients arrive daily to the Olin E. Teague Veterans Medical Center enrolling for medical care and volunteers are needed to fill many roles.
"Way Finders are needed to help new patients find their way around the Center, from the parking lot to the pharmacy and to the canteen," she said. "Citizens, and veterans leaving the military, sometimes come to volunteer."
To volunteer for the Department of Veterans Affairs Holmes said applicants are carefully vetted with performance based interview questions."This helps potential volunteers find their area of interest and understand why they want to serve. The majority want to give back."
She said they look at where they may have a need to fill a void, and this format makes an effort to match a volunteer to a job that fits their skill set and experience.
"The need is critical," she said. "We have so many veterans to take care of, it's really important that the community out there is willing to support the vets as they get to know the community and resources available to them. Our volunteers aren't getting paid but they want to show their appreciation (to the vets) for their service, and give back to veterans."
Before Holmes became the voluntary services coordinator for DVA, she worked as a music therapist with veterans coping with challenges due to PTSD, depression, anxiety, substance abuse and suicide ideation.
Holmes is a board certified music therapist with a BA in Music from Hardin-Simmons University, a MA in music therapy equivalency from Texas Woman's University and is currently working on her doctorate of education in leadership from HSU.
She served six months as a music therapist intern working with vets and said she realized how important it was for veterans, "to be surrounded by a community who supported them while they were integrating back into civilian life."
Holmes wants to see more people come forward to volunteer. She had several family members who served in the military, including her great-grandfather who was a German POW in World War II, and said she carried family values of respecting the military, appreciating them because "that's what I grew up with."
She said the worst things she sees with vets are the deep anxieties and thoughts of suicide, and vets not knowing when to ask for help when they need it.
"It's so important for them to be a part of our community," she said. "I see veterans interacting with the community and experience the caring and compassion provided through volunteerism. With a volunteer they get to experience people with a genuine heart."
When she completed her residency at the Waco facility, she said she knew she wanted to work with adults who had mental health issues.
"After my internship with vets, I knew where I wanted to be," said Holmes, who still volunteers every Tuesday in MacGregor, at a therapeutic riding center for veterans. "Volunteering is my self-care. It seems like you are adding more work on yourself but there is something about knowing you can give freely. It cleanses you."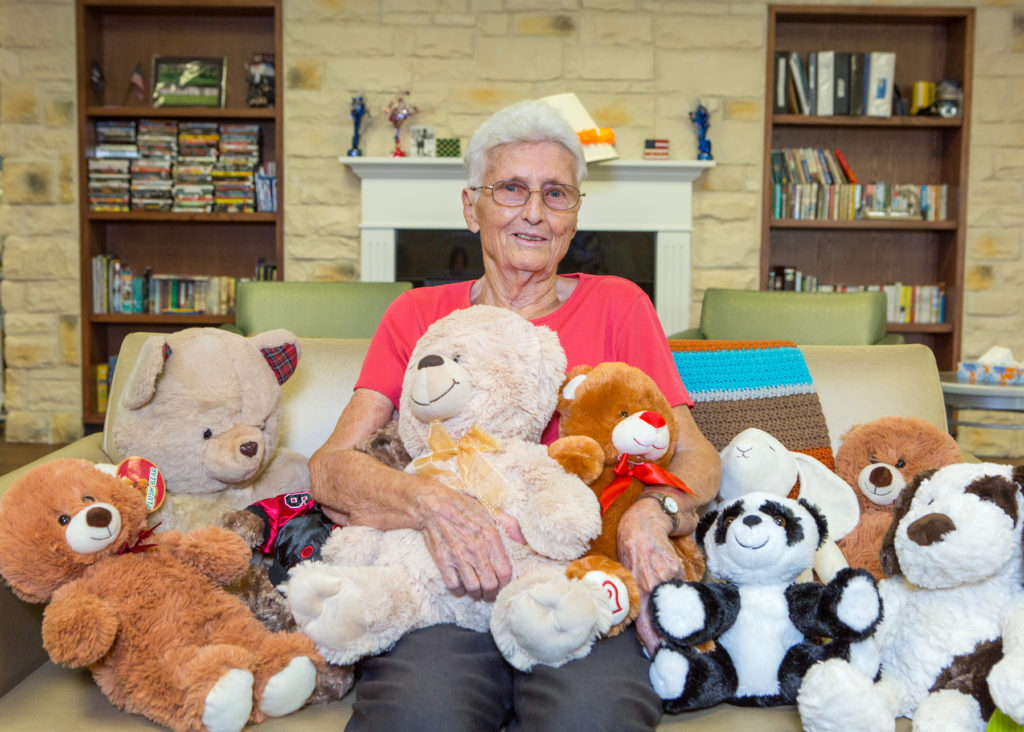 Lifelong service
DVA volunteers range from 13 to 87. Some volunteers come and stay for a few days, an event or their entire adult life like 87-year-old Lilo Saenz.
Saenz began volunteering in 1972 when she retired from her nursing career to take care of her husband, the late Henry Saenz, a disabled veteran, who served in Korea and Vietnam and was "hit twice," she said.
She serves 250 to 350 hours a month and recently reached 50,000 hours. This year she received the Temple Military Order of the Purple Heart for Woman of the Decade Unit 1919, Austin, for her work as volunteer.
"I am old, but I cannot sit and play bingo every day," she said. "It helps me to come out here and be fussing with the guys when they don't want to do something."
She comes across feisty, stubborn and willful, but always with a smile and always with her veterans in mind. She is determined not to see a veteran go without, whether that means a box of cookies, a bag of pretzels, a pair of shoes, jeans or a shirt. She will find a way to get it and deliver.
"I make phone calls from home to beg for stuff," she said. "Socks, underwear, jeans, pretzels, Mountain Dew; they know if they need something, and I have it, they will get it. It might take me a week to get it but I will get it for them."
When she does bring in a stash, she is like a squirrel hiding its harvest for the winter. Saenz stashes away goodies in a two-door wardrobe and two four-drawer filing cabinets. That's a closet of clothes and eight drawers of snacks that she keeps locked up for when someone asks for something specific. It might be a favorite box of cookies, a bag of pretzels, a candy bar, a pair of socks or a pocket treat of some kind.
In addition to her being the guardian of the sweets, Saenz makes red, white and blue horseshoe shaped blankets for amputees and wheel chair patients. She likes to make the vets feel comfortable in their surroundings. For those on their final journey, she places a plush teddy bear or another plush pet in their arms to hold onto while they pass from this world to the next.
But she would like to see all veterans feel the joy of a plush pet.
"We need more teddy bears," she said. "We got some from Operation Stand Down Central Texas, but we would like to have more to share with other residents."
Anyone who wants to volunteer may contact Holmes at Bridgett.Holmes@va.gov.