Austen would appreciate modern take on classic tale
By M. CLARE HAEFNER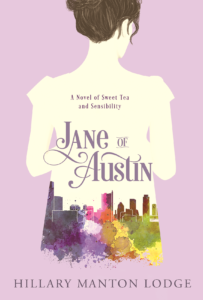 Many authors draw inspiration from their favorite authors. Hillary Manton Lodge is no exception. Her latest novel, "Jane of Austin" (WaterBrook 2017), is an excellent modern adaptation of Jane Austen's "Sense and Sensibility."
In this retelling, the main narrator is Jane Woodward, a middle sister who is struggling to find her place in the world as life shatters around her for the second time. Inspired by Marianne Dashwood in "Sense and Sensibility," Jane watches from the outside as her older sister Celia's love life falls unexpectedly apart at the same time their business is abruptly forced to close, prompting the sisters' to relocate from San Francisco to Austin. Starting over in an unknown place, Jane finds herself unmoored, questioning everything and struggling to fully live her life. Rather than write a story from the oldest sister's perspective as in Jane Austen's classic, Lodge offers a fresh take on the novel, exploring the trials and relationships from the person who grows and changes most as the plot unfolds.
"Jane of Austin" is about self-discovery — for protagonist Jane Woodward and for her "hero" former Marine Capt. Callum Beckett, who returns to Texas after losing his career and part of his leg. Beckett co-narrates the book, and the dual-perspective gives the reader insights that add interest as the characters develop and change the way they see each other and themselves.
Like Austen, Lodge focuses on relationships between characters as she deftly reveals their true natures. The book blends elements of "Sense and Sensibility" with "Pride and Prejudice" and "Emma" while creating characters that are truly her own. Lodge says "the pleasures of life" are why fans, including herself, revisit Austen's work. "Her books are populated with people we know," Lodge said. "I've met Fanny Dashwoods and Mr. Eltons and Mary Musgroves — we all have. (Austen's) stories resonate because they're inhabited by our own neighbors, parents and co-workers." Lodge manages the same feat in "Jane of Austin." The Woodward sisters, their family and neighbors feel like old friends.
We root for Callum Beckett and Jane Woodward because we know the struggles they navigate and understand their hopes of finding love and a place to call home.
Another interesting aspect of the book is how the city itself serves as a minor character. Lodge brings Austin to life, taking her characters to iconic areas, including Hyde Park, the Driskill Hotel and Barton Creek, as the Woodward sisters experience some of the culture that keeps Austin weird.
Food and music also are integral parts of the narrative — the Woodward sisters run a tea shop, Callum Beckett inherits his father's barbecue chain, and Jane's other love interest, Sean Willis, is a lead guitarist and front man for a band. The city's vibrant music scene, including stops at the Cedar Street Courtyard and South By Southwest, blend with some of Austin's popular eateries, such as Torchy's Tacos, Gourdough's and Amy's Ice Creams, to add details that bring the story to life.
Lodge also includes recipes for some of the foods she mentions in the book, including Frito pie, Texas sheet cake and shrimp tacos. It's a nice touch that allows the reader to share an experience with her characters.
At its heart, "Jane of Austin" is about family — the one you're born with and the one you make for yourself by discovering who matters most. Lodge makes it clear the discovery is the point, and Austen would be proud.