From the Editor | October 2017
Dear Readers,
This month, Tex Appeal writers had the privilege to interview some of the young professional women in our community. These accomplished women represent careers ranging from artist to social philanthropist. While a few blended into the career of their choice, others were detoured to positions that may not have aligned with their formal education, but were natural fits for their experience.
Lenna Barr, vice president of operations for her family's business Kidz Therapeze, in Killeen, wanted to work in cor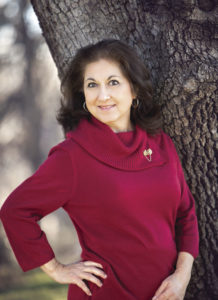 porate real estate. While studying for her master's degree at the University of Mary Hardin-Baylor, she began working in her family's business and never looked back. She is also an active Rotarian and social philanthropist on the board of the Killeen Free Clinic, Page 12.
Civil engineer Angellia Points, didn't grow up with the same opportunities as others and was resigning herself to a career in retail, until she entered a spaghetti bridge building contest in a high school geometry class. She won. Today she has crushed the glass ceiling with her meteoric rise to become the city engineer and director of public works for the City of Belton, Page 25.
Ashley Whitworth wanted to be an FBI agent. She studied criminal justice in college and took some classes in accounting. When her dream of becoming an agent didn't quite make it, she began a career in banking. Today she is the vice president of First Texas Bank in Killeen and Copperas Cove, Page 31.
Art is magic and the artist is the magician. Crystal Orlando, an avid horsewoman, one day started sketching some of the animals she loves. She taught herself the technique of drawing with graphite and charcoal to create realistic interpretations of some of the animals that have crossed her path, each one with its own unique story, Page 47.
Mary Gaines Irish, MD, knew she wanted to be a doctor when she was 5 years old. At first, becoming a pediatrician was at the top of her list. But kids can change their minds as they grow. Now Irish is a doctor specializing in internal medicine at Scott & White Medical Center — Temple, Page 43.
Giving of self comes natural for Caitlin West, a rancher's daughter. She said she was influenced by her late maternal grandmother to show love and compassion for all people she meets. She took that inspiration and volunteered at St. Vincent de Paul of Greater Temple — A United Way Agency — and was offered a full-time job as the assistant executive director. Next year she will assume the position of executive director for the organization, Page 53.
If you are looking for a new place to visit with family, friends or even a date, take a drive to San Marcos and visit the Meadows Center for Water and the Environment on the San Marcos River. Once known as Aquarena Springs, where pigs swam and glass bottom boats took tourists on rides over the clear river, it is now part of Texas State University and offers an educational look into the research and conservation of our waterways and the creatures that inhabit them, still seen through the floor of a glass bottom boat, Page 58.
Wherever you are in your busy day, take a break, pour yourself a cup or glass of your favorite fall beverage and enjoy the inspirational stories about our Young Professionals.
Catherine Hosman
Tex Appeal Editor
editor@texappealmag.com
254-774-5234