Operation Christmas Child supports children around the world
By EMILY HILLEY-SIERZCHULA
Contributed photos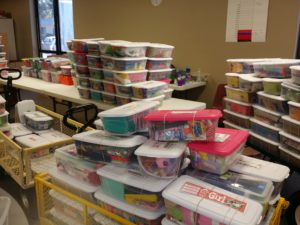 Christmas is traditionally a time of giving, often centered on family, with plenty of presents under the tree for the kids and a plate of cookies for Santa. But For some folks Christmas is more: It's a chance to share the spirit of kindness to impoverished children all around the world through Operation Christmas Child, a partnership with the Franklin Graham Ministry and Samaritan's Purse. It's a way to care for others, whether in an African orphanage or a village in Central America.
Volunteers with Operation Christmas Child fill plastic containers with small presents and send them to children in need. "It's unbelievable what some of these children have to go through," said Linda Crowder of Lakeview Baptist Church.
Her husband, Bob, became Lakeview's pastor on Oct. 1.
She recalled stories about children in India who helped their families survive by spending their days rummaging through heaps of garbage at the local dump. No education and little hope for the future. "Even our poorest kids are rich in comparison," Crowder said.
Lakeview Baptist Church in Belton and Immanuel Baptist Church in Temple are on the front lines of Operation Christmas Child for the second year. "It's close to my heart," Crowder said. "I have grandkids, and I think about how any one of those children could be my grandkid."
Crowder also is sympathetic to the cause because she understands hardship. "I was raised by a single mom and if people hadn't helped us through the church we would have had nothing," she said.
Crowder said 135 million boxes have been sent around the world, with no two boxes exactly the same. The Gospel, translated into local languages, is included and missionaries follow up with recipients.
"Whole families have been changed," she said.
The experience of childhood is dramatically different from underdeveloped and developed countries.
"Our kids get antsy if they don't have a cellphone or iPad, while these children are happy to get a toothbrush or a bar of soap," Crowder said. One little girl in an orphanage was thrilled beyond belief to get a toothbrush in her box, Crowder explained. She had been sharing one with nine other children.
Crowder believes God works in mysterious ways. One child in the deserts of Africa received a pair of winter gloves in his box. Why would a child in the deserts of Africa need with the winter gloves? It just so happened that the child had serious burn injuries on his hands, and wearing the gloves allowed him to experience the world through touch.
Crowder also sees the hand of God even in slight miscalculations. All the children in a Central American village had been handed boxes except for a set of twins — and only one box remained. "The missionary in charge was brokenhearted, until they opened the box and there was two of everything," she said. "That's how God has blessed this."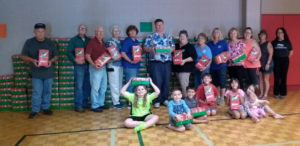 A heartfelt mission
The main purpose of Operation Christmas Child is to send love rippling across the globe.
Jerri Tyler, of Belton, packs boxes for Operation Christmas Child every year in memory of her mother. "It was one of her passions and I'm just continuing her legacy." After her mom passed away, Tyler discovered her mom already had carefully packed a box for the next year's Christmas child.
"It helps children feel worthy, loved, and they know that someone is thinking about them," Tyler said.
In the box Tyler packed this year she included a note for the child along with gifts of craft and health items, a journal, books and writing implements. Tyler and her now grown daughters were involved in the operation for many years. She said her daughters felt excited when they helped pack boxes to be sent to children more in need than they could even imagine.
"We take a lot of things for granted," Tyler said. "When the Sunday school teachers told them all the things we take for granted, even being able to comb our clean hair, it had a real impact on my daughters."
The packing parties at the church, such as what happens at Immanuel Baptist Church, was "a time for food and fellowship."
The impact on the children receiving presents can last a lifetime. "One of the greatest things I remember is listening to a woman who had gotten a box as a child, and now she lives in the U.S. and travels to churches telling her story," Tyler said. "It was amazing to meet someone who had been so touched. You just never know what kind of difference you can make."
Lessons learned through giving
Laurie Bailey, media coordinator with Operation Christmas Child, Mid-Texas region, sees Operation Christmas Child as a way to help others but also to impart lessons on her own kids.
Her children watched from strollers as their mom packed boxes, eventually taking up the task themselves. Now her 14-year-old daughter is interested in becoming a member of the organization.
"It's so exciting to see it multiply," said Bailey, who has been involved with the charity for 13 years. "It teaches kids to accept responsibility and to learn the value of volunteering to help others. They're more likely to be involved in their communities later in their life.
"It demonstrates God's love in a tangible way," she continued. "For many of these children, the gift-filled shoebox is their first gift ever received. I hear over and over again from the stories the children write that they become full of hope and are suddenly aware of God's love."
Samaritan's Purse is aiming to reach 12 million children in 100 countries this year, with 17,000 boxes coming from the Mid-Texas region alone, Bailey said. Samaritan's Purse is the missionary organization that decides where the boxes will be sent, based on the input of local governments and missionaries.
How you can help
To make a difference you don't have to attend a packing party or go pick up a box, pack it and bring it back to the church. Donations are accepted, allowing the organizations to fill the box for them. The organization also appreciates donations of $9 per box to help cover shipping and other expenses, Bailey said.
For those who enjoy packing their own boxes, a list of acceptable items is listed on the Operation Christmas Child-Samaritan's Purse website (https://www.samaritanspurse.org/operation-christmas-child/), along with drop-off locations and suggestions for the various age groups from 2 to 14 years old. School supplies are a good idea because not having a pencil and paper can keep a child from going to school, affecting their entire future. Flip-flops, clothes and toys are also popular choices.
Bailey said tools are in demand: hammers, screwdrivers, flashlights, fishing and sewing kits can all help a child supplement their family's income.
People can spend as much or as little to fill their boxes, but it averages around $20.
"For the same cost of going out to lunch with friends you can change a child's life forever," Crowder said.