Brides turn to noninvasive procedures for spectacular skin
When it comes to pre-wedding beauty routines, brides are choosing noninvasive procedures to be camera ready for their special day.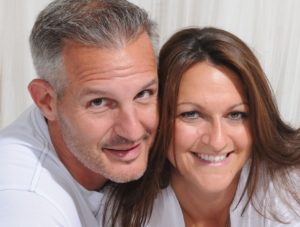 Botox, facials, exfoliation, laser hair removal, dermal fillers, lip enhancement, facial peels and other methods of body and skin care are at the top of their list when it comes to medical spa treatments.
"More and more women in their 20s are getting Botox," said Jeff Garberich, PA-C, co-owner of About Face Anti-Aging Institute, with his wife, Stephanie, manager and health coach. "Botox is the most popular in the industry. The stigma is gone. People want to keep their natural expression and not look frozen."
It takes seven to 10 days to see the full effects of Botox, and it lasts three to four months.
Lip enhancement is another popular choice for brides, he said. It can take a couple of days to see the full effects that can last up to one and a half years.
Injectables can cause trauma to your body, however, and Garberich said timing is important. "There is downtime depending on procedures," he explained. "Do you have events coming up? We go in-depth to qualify patients. Safety is our highest priority."
Garberich said brides should not book too far out or too close to their wedding, depending on the method they choose. "We can do Botox injections three or four weeks before a wedding. Don't come in two weeks before your wedding or just before you have photos."
Stephanie Garberich said there could be some swelling and bruising involved, but it will go away.
Mothers of the bride also need a break from all the planning. About Face Anti-Aging offers private parties for groups and that are a great way for the bridal party to spend time together. "It's a controlled environment and should be booked two to four weeks out from the wedding," Jeff Garberich said, depending on procedures. Some require a longer lead time. Brunch is provided, but no mimosas. "No alcohol, it's a blood thinner," he said.
About Face also carries a full line of skincare products for home use. "It's amazing what a good skin care regimen can do," he said.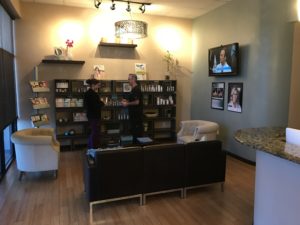 Free consultations
Before any procedures are done, Garberich requires new patients to fill out an in-depth consent form and list any past illnesses and allergies to rule out any contraindications.
"We ask why they want to do this (a certain) procedure," he said. "Educating our patients is huge."
"With each new patient we conduct a thorough consultation so we understand their goals and we can educate them on the best way to achieve that goal, which sometimes is different from what the patient thought they needed," said Stephanie Garberich, adding that a patient may come alone or bring a friend or family member as a second pair of ears.
Jeff Garberich spends time with his patients, listening to their needs. He explains procedures and makes recommendations, addresses concerns and generates a customized plan for each patient's needs. "We believe in taking care of the whole patient. Are you drinking enough water, exercising, sleeping well? It's all vital to the care of your skin."
Stephanie Garberich said the industry is changing all the time with new methods and About Face is keeping up with the latest discoveries. "They are changing the makeup of the products we use," she said. "We also are learning new things about changes in the body and skin." It's important to educate our clients and get them the best results, she added.
A new career
Jeff Garberich is a 27-year veteran of the U.S. Army. As a physician's assistant for more than 17 years, he diagnosed and treated urgent care issues, managed chronic medical illness and pain. He also treated women's health and conducted procedures to save the lives of soldiers during his five deployments, and improving the lives of soldiers while working at home. In addition to being a certified physician's assistant, he holds multicertifications and licenses for the application of injectables at About Face Anti-Aging Institute. He is a certified master injector by Allergan and an instructor at the Texas Laser Institute Injectable Academy.
"Jeff has a passion for non-surgical aesthetics and loves helping clients feel great," Stephanie Garberich said.
"It's the joy I get when seeing a patient come in down on him or herself and wanting to feel better, look better," Jeff Garberich said. "They leave in tears, they are so happy with their results."
About Face Anti-Aging Institute
201 E. Central Texas Expressway, Suite 1260
Harker Heights | 254-791-5515
www.aboutfaceantiaging.com