When you think of eloping visions of Las Vegas come to mind with a couple being married by the King himself, Elvis Presley, or at least a good simulation. Others connect driving off in the middle of the night looking for a country Justice of the Peace to perform the nuptials.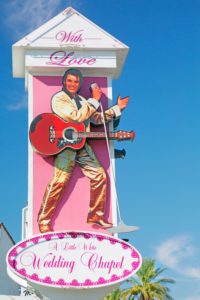 In the past, eloping was an alternative to a shotgun wedding, when the bride and groom were forced to marry due to a blessed event on the way. But for today's brides, eloping has taking a whole new definition.
Eloping is no longer a last-minute nuptial celebration. With just a little planning the couple can plan the elopement of their dreams—a sort of mini-version of a larger wedding but still with most of the trimmings.
Basically, the new elopement is a tiny, small intimate wedding.
"Millennials are redefining the wedding industry in their own language. Small weddings are redefined and categorized today as elopement," said Beverly Moon, certified wedding planner. "Both sets of parents, the bride and groom, justice of the peace and close friends serving as the maid of honor and best man attend — it's a small, intimate wedding."
Whether a bride opts for a smaller, intimate elopement wedding or a larger celebration, Moon said one thing that remains is their desire to have an elegant affair. Moon said brides still want the dress, a bridesmaid or two and bouquet, but not the price of a big wedding that can cost, at minimum, close to $27,000 for a reception with all the bells and whistles.
"Most likely they will choose a restaurant for an intimate dinner around the table with parents, maid of honor and best man," she said.
If the wedding guest numbers 25 or less, the couple may opt to have a dinner in a private room off the main dining area of a restaurant.
"Couples also go off to locations like Vegas, or another intimate venue," she said. "It's really a small wedding millennials are classifying as elopement. They are just not sending out standard invitations and hold-the-date cards. It's intimate without the headache of a big wedding cost."
A lot of military personnel who are away from family and want to marry their significant other use the elopement technique, Moon said.
"Eloping couples want it to be legal, they want the intimacy and some glamour of a wedding and maybe down the line will have a reception with family and friends," she said.
Moon recalled a couple she helped with their elopement.
"The bride had a nice dress, a bouquet; the couple got their license at city hall on Monday and on Friday went back to the courthouse to get married. It included parents of the bride and groom, with best friends standing in as the maid of honor and best man. They had dinner at a nice restaurant in Salado."
Moon said locally some people will choose to be married on Belton Lake because they can't get to a beach.
She said couples hire her because her package for the day is affordable. "It's actually Day of Coordination," she said. "You don't have to set up caterers, bakeries, flowers — they look at photos, I call the vendor and it's all done. It's short and sweet and to the point."
Moon said negotiations are not a problem. There is no caterer, but the bride still wants a small cake. Some brides eschew a photographer, while others might book one for just 45 minutes to an hour.
Usually one or both set of parents will pick up dinner for the small party and a wedding that could cost up to $30,000 now only costs $6,000 to $7,000, or less, depending on choices.
"Those who choose to elope are young, not out in the world very long," Moon said. "Their parents are a working family, barely middle class. Others can afford a bigger wedding, but a big wedding is not of interest to them. They may have the money, but all that extra stuff is not want they want. They just want to get married and get on with life."