21st century skincare: Howell takes a holistic approach
Story by SALLY GRACE HOLTGRIEVE
Photos by JULIE NABOURS
ZsaZsa Howell is the aesthetician next door.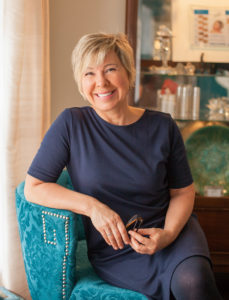 As owner of Z Medical Aesthetics she is approachable, uplifting and a great listener. She loves getting texts from her clients about how great they feel after a treatment, and she's always ready to respond to someone's skin emergency.
The clinic is structured around Howell's holistic approach to skincare, and health and wellness in general. As a self-described "granola girl," Howell believes in natural choices, such as eating organic and pure foods. Botox injections do not fit into her lifestyle and she chooses not to offer the option at her practice.
"That doesn't mean it doesn't work for you," she said. "I'm not going to judge that choice. In here we don't judge, we're very vulnerable to what we need. I believe in rejuvenating the skin; improving its health with immediate results and long lasting effects."
When using natural modalities — be it light therapy, micro-current, radiofrequency or lasers — it is vital to know and understand a patient, according to Howell, who said the consultation process in her industry is critical.
It's important to know the whole person, she said. Whether they have any sensitivity issues, chronic illnesses or are on any medication can all influence what treatments are going to be the best choice.
It is vital to understand where a client is coming from and what they truly want out of an appointment, Howell continued, adding that the main thing she does on a first visit is a lot of listening. Then Howell and the client come up with an action plan and prioritize needs and concerns.
"A lot of people say their happy place is at the beach," Howell said with a smile. "My happy place is sitting at the head of my treatment table. It's when I pass the mirror to my client and they go, 'oh, wow.'"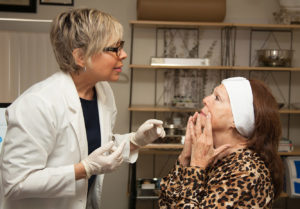 Origins
Though a lifelong devotee to the topic of health and fitness, Howell's professional background began in the corporate world. One summer she volunteered at her late husband's Family Practice Clinic office. The couple enjoyed professional collaboration so much that Dr. Shelley Howell suggested his wife come work alongside him at the practice.
"He was open to a holistic approach to wellness and not just prescribing prescriptions, rather getting to the root of issues with people," Howell said regarding how she contributed to her husband's practice. "We wanted to infuse (natural approaches) to round out the practice for our local community."
The initiative began in 2007 with a different approach to weight loss. The Howells hosted a "Six Weeks to Wellness" program that included speakers, new topics every week, weigh-ins and question and answer sessions. The approach was rewarding to the client base, Howell said, because they focused on health as a lifestyle and embracing one change at a time.
"Although people want to take a proactive approach, there's so much out there that confuses patients," Howell said. "The program brought some clarity to it all."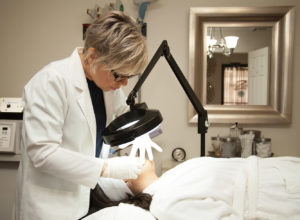 While focusing on overall wellness, the husband and wife team included elements such as detox diets and baths, oxygen therapy and vitamin shots. Howell began to seriously study skincare and found that a healthy body, healthy skin and healthy mind were all related.
"We also did a lot of evaluating and listening to what our patients were asking for," Howell said. "We looked around the community to see what wasn't being provided. We assessed the market and found holes where aesthetic services could be utilized. That's how we evolved into skincare."
In 2014, after working together for about nine years, the Howells sold their medical practice and turned their attention to opening the clinic. After about nine weeks in operation, Shelley Howell was diagnosed with a terminal illness. His wife closed the business and gave him her full attention.
Despite an original prediction of one or two months to live, Howell was with her husband almost a year before he passed away. It was an honor and privilege to take care of and be with him full time over that year, she said, adding that she was joyful for every extra moment she had with her life partner.
Revisiting the concept of reopening the business was difficult for Howell at first.
"We had so much fun working together, that I was denying this business my presence," she said. "I almost sold it three times, but it would always fall through at the last minute. So I said, 'Ok, God, I won't be a Jonah and run away. I'll dive in. This past November was my eighth month of refocused opening and I haven't looked back. It's been one of the most wonderful decisions I've made."
Challenges sharpen a person, Howell said. They build up resilience, focus and grit and remind you who you are.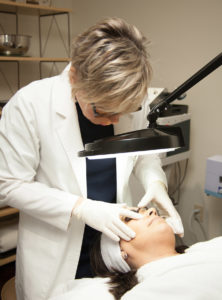 Atmosphere and advice
Clients are treated to a spa-like feel at Howell's clinic. The decor is tranquil, the music is soft and soothing, and air purifiers and essential oils invigorate and revitalize the mind and body.
"I keep a peaceful environment and cozy one-on-one feeling here," Howell said, explaining that she only sees one patient at a time.
Every treatment is as individual as the person receiving it. Whether you've had zero facials in the past or dozens, proper exfoliation is extremely necessary to take off the dead layer of skin, Howell said. Next, she might administer a double cleansing, a peel and extractions, or light therapy. Blue light kills bacteria, while red light calms the skin down and green light is good for broken capillaries. Howell said she always loves to infuse skin with antioxidants that nourish and restore, making the face visibly glow. She also uses tools to ensure those antioxidants are worked deep into the skin.
The procedure must be customized, Howell emphasized.
"If you're an older client with a sedentary lifestyle, I may do some lymphatic drainage prior to doing the facial, because that's going to help break up congestion and aid in relaxation, making for a healthier time on my table," she said.
Linda Mohlstrom, who has been a client since 2008, said Howell genuinely cares about her patients. "Her mannerisms and approach to it all are so nurturing," Mohlstrom said. "I'm one of those 'what, why, how,' people, and (Howell) always explains every treatment thoroughly. You can tell she loves and cares about what she does."
Mohlstrom added that Howell never tries to over sell or up charge for treatments that aren't necessary.
Regarding skincare in the Central Texas area specifically, Howell said locals sometimes have misconceptions about the sun. When people are out on the lake in the summer, they have sunscreen on their mind. But on a gloomier, fall day or during cold months, people don't always think about sun protection.
UVA rays, responsible for 90 percent of the skin's aging process, shine through during all types of weather and can penetrate through windows, Howell said. Not only is it vital to wear sunscreen, it's important to find one with a wide variety of antioxidants included.
Other factors that seriously affect skin health include stress, hormone changes, diet and attitude. It's important to stay hydrated. As the largest organ, our skin needs to be watered, Howell said, adding that "watered" means water, not coffee or tea.
Nighttime regimen is one of the most important parts of skincare. Howell said she has tried seven step regimens, but found the demand did not work for her.
"As glorious the promises and beautiful as the results could be, the thing is, if you don't actually use it, it's not going to work," she said. "Know yourself and what you're going to be compliant with."
Howell uses micellar water or wipes to lift away makeup before washing her face. Then she applies a serum with hyaluronic acid to nourish her skin, followed with an antioxidant rich night cream.
"When you feel good you look good and when you look good you feel good," Howell said of why it's important to dedicate time to skincare.
"When your wellness goes up, you're happier. Happier people are more productive and kind."