Mills delivers another thriller with 'High Treason'
By M. CLARE HAEFNER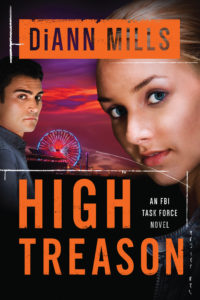 Someone tries to assassinate Saudi Prince Omar bin Talal on American soil when he brings his mother to Houston for medical treatment. FBI Special Agent Kord Davidson reluctantly teams up with CIA operative Monica Alden to keep the prince, his mother and sisters safe and figure out who would commit high treason before it's too late.
As their investigation unfolds, Kord and Monica learn the prince has ulterior motives for his visit, including plans to promote stronger ties with the U.S. and economic growth through oil leases. Those plans add names to a list of suspects in a case with potential insider ties that keep the agents on their toes.
In "High Treason" (Tyndale, February 2018), Houston author DiAnn Mills delivers another suspenseful thriller that shows how the Federal Bureau of Investigation works with other U.S. law enforcement agencies to solve crimes. The third book in Mills' FBI Task Force series, "High Treason" is one of her best novels.
"Solving and preventing crime is the work of many agencies and law enforcement officials. A task force combines the expertise of those who are trained in unique skills to keep us safe," Mills said.
The book is loosely based on a case in New York City in which an assassination attempt on a Saudi Arabian ambassador was discovered and stopped. "A combination of this FBI case and a desire to show unlikely characters united to solve a potential violent case led me to write 'High Treason,'" Mills said.
The combination of unlikely characters is what made the book so interesting.
As a female operative, Monica has to fight for respect after being embedded in the prince's male-dominated household. It's not her first time dealing with Middle Eastern cultural and religious differences, but not being able to make eye contact with the prince and his security team makes her job harder.
So does Kord. As the prince's longtime friend, he takes the assassination attempt personally and doesn't feel like he needs a CIA operative to help him uncover the killer, especially a beautiful woman.
"My goal in each of these books is to show how the FBI works with other agencies to ensure the safety of others," Mills said. "Many times, we think each law enforcement agency works alone. But all have the same goal: prevent crime and arrest law breakers."
With strong supporting characters and dual-perspectives in narration, Mills brings the plot to life, even adding rain that floods some Houston streets into her storyline as a secondary obstacle to stopping a killer.
Religion is another undercurrent. Kord has been reluctant to embrace faith, while Monica struggles to forgive herself for past actions that cost lives. Both are seeking God's grace and a real connection with another person. As they search for a killer, they learn to rely on one another and on a higher power to help them accept their pasts and move forward with open hearts.
The blossoming romance in "High Treason" is the perfect counterweight to the high-paced danger of catching an assassin and those funding the plot. Every time it seems like the case is solved, Mills offers another surprise for readers and her protagonists, deftly showing how even the smallest details can come into play when solving a case.
Mills is a master at weaving suspense into her storylines and "High Treason" is her best work yet.