Get fit with your canine buddy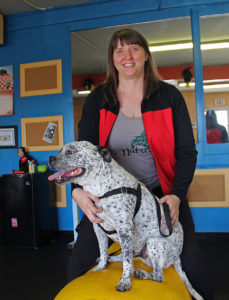 Story by CATHERINE HOSMAN
Photos by ARIANNA FERRARO
Heather Nusbaum, owner, CEO and certified personal trainer at Nutree Fitness in Killeen, and her English bulldog, Gordo, wait for canine clients to arrive with their pet parents for a Paws for Fitness class.
One by one, dogs from tiny to large begin to enter the room. Alysia Perkins and Tina, 4, a Chihuahua terrier mix, are regulars. Newcomers are Lani Terry with Sombra, 2, an Australian cattle dog, and Rebecca Moon with Riva, 7, a Weimaraner.
Gordo greets his friend, Tina, then proceeds to make new friends with Sombra and Riva. But this is not a play date. Paws for Fitness is a disciplined workout for people who want to keep themselves, and their canine companions healthy.
After the dogs greet each other they are brought over to his or her holding station until it is time to begin the workout. Each animal is humanely attached to a short chain anchored into the wall. And it doesn't matter what size the dog is. It could be a Yorkie or a Great Dane, Nusbaum said. The holding stations are spaced so that the dogs cannot touch each other while waiting for their turn to workout. "They are not here to socialize. Some dogs are not happy with other dogs, but that doesn't preclude them from coming to class," Nusbaum said.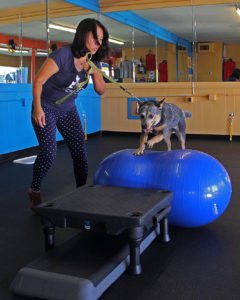 But they are not attached for very long. Class begins with a welcome from Nusbaum before she leads the group in a warm-up exercise.
Pet moms walk their dogs clockwise around the room, maintaining space between the dogs, while doing their own knee lunges alongside their pups. Pet moms also do walking squats to warm up their thighs and glutes, all the while lowering themselves to their pups' level to pet them.
"These are spoiled, loved animals," said Marley Smith, who helps with the dogs during their routines. "Spoiling them rotten is the best part."
Once the group's warm-up is finished, the dogs are returned to their stations and the individual exercises begin.
Tiny Tina is about to navigate the "Up and Over" obstacle–a large, unsteady peanut shaped inflatable with platforms on either side, but she seems to be more interested in Riva.
"The dogs want to socialize," Nusbaum said.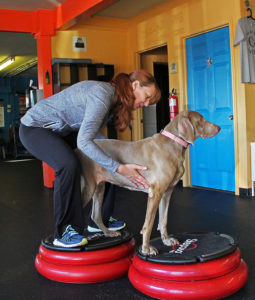 Alysia gets Tina back on track and attempts to walk her over the station. She only gets a short way up the oblong shaped obstacle when her legs begin to shake.
"Tina doesn't like instability at all," Nusbaum said, as she watched Tina and Alysia work the station. "She will do partial movement."
The next exercise is the wall lunge. Pet moms do a sliding lunge using the wall for support. Their dog either sits on their lap or under their legs. This is followed by the Balance Squat Step. With this exercise dogs must balance themselves on a circular disk set on top of rubber tubes filled with air.
First the pet parent steps on top, balancing herself before bringing her pet up to join her. Its instability requires balance from both human and dog.
"This gives a workout for you and your dog," Nusbaum said. "You don't have to take your dog for that extra exercise walk. He or she doesn't chew your furniture. You don't have to work out by yourself."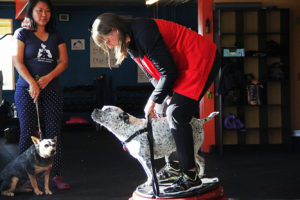 Doing the exercises keeps the pets in a healthier physical state and gives the owner bonding time with their dog, Nusbaum explained. "Each time you engage with your pet you are building that relationship more and more."
Riva, the sophisticate in the group, is sleek and tall and well behaved. She paid close attention to her pet mom's moves and commands. But she is tired, being the elder in the room.
"She's saying, 'I'm sleepy right now, mom. I just want to go back to bed,'" said Moon.
"Dogs need stimulation," Nusbaum added. "When you get an exhausted dog, you get better behavior if the dog is tired."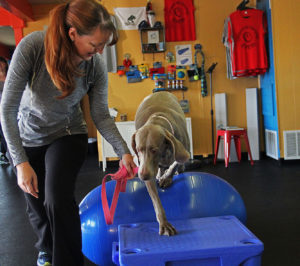 As the dogs were being led back to their stations, they inched closer to each other, tails wagging.
"I want to play with them," Sombra seemed to say in a language only the other dogs could understand, stealing attention from the other pups.
"Look at me," tiny Tina barked. "I'm so cute. Love me, too."
"Me, me, me," said Gordo, as he nuzzled up to the nearest person, demanding a belly rub.
Health restoring exercise
Nusbaum, a career accountant, founded Nutree Fitness because of need. She was an avid athlete as a teenager and enjoyed dancing and running in marathons, despite an early diagnosis of dysfunctional knees (Patella-femoral dysfunction). She said she lived in pain 24/7 for 15 years. Added to that was a diagnoses of Graves Disease, ‑an autoimmune disorder that causes hyperthyroidism.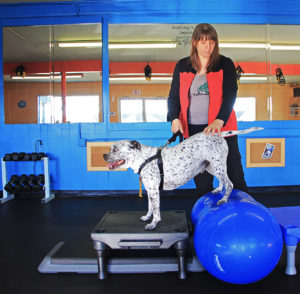 Nusbaum, an Army wife, said she began to gain weight after she married and wanted to start a program to help herself get back into a healthy state. But what would she be able to do with her knee problem?
So she started the P90X program at home.
"With P90X you use your own body weight as resistance," she said. "I also used bands with massive modifications."
After nine months she reversed her knee pain from 100 percent of the time to 30 percent of the time. "It fixed my knees so I kept at it. It got rid of the knee pain," she said.
When her husband came home after his deployment, he told her about other soldiers and how they gained weight.
"Outside of standard duty to injury, if I can help myself, I can help others," she decided.
Nusbaum became a NASM (National Academy of Sports Medicine) master trainer. She specializes in corrective, restorative exercise and is a youth and performance exercise specialist.
When she's not working at her day job as an accountant, she is helping others get back into a healthy lifestyle through modified exercise.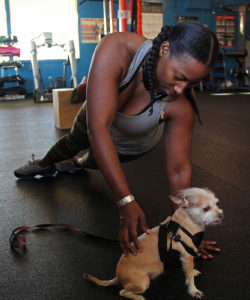 Her classes include G.O.T. Fitness, a class for any fitness level; P90X, a total body program that utilizes your own body weight as resistance; Kettle Ball Fitness; the MELT Method for hand and foot treatment that helps to eliminate chronic pain and improve performance and of course, Paws for Fitness that includes classes that teach: A Little Obedience, Challenge sets and Canine Awareness.
Nutree Fitness is a specialty gym. There are no memberships or regular business hours. Classes are scheduled by appointment only and they are on a pay as you go system.
"I'm a corrective exercise specialist," Nusbaum said. "We don't just work with people in good shape but with people who need modification. Any medical condition someone may have, we can create a workout to help your progress."
Nusbaum has worked with a Parkinson's disease patient and with clients who have had bariatric surgery. She understands their special needs and customizes a workout program for each of them.
"I truly enjoy helping people get better," she said. "We're not making their issue go away, but we are helping that person have a better quality of life experience."