Get total body training with TRX
Story by CATHERINE HOSMAN
Photos courtesy of JOHN MARSHALL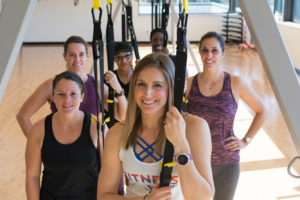 Eleven students line up at the stationery TRX station in the studio at the Armed Services YMCA in Harker Heights.
One man and 10 women grab handles attached to adjustable straps and wait for direction from their instructor, Katie Lochridge, ASYMCA Wellness Director and certified TRX trainer.
TRX or Total Body Resistance Training is one of the newest trends in exercise catching on around the country.
Originally designed to help keep Navy SEALs in shape, regardless of where they were assigned, it has inched its way into mainstream fitness programs during the past five years. Using your own bodyweight as resistance TRX simultaneously develops strength, balance, flexibility and core stability (www.trxtraining.com).
Each person comes to TRX with his or her own level of fitness, Lochridge explained. Some are beginners, others are advanced. All will achieve their fitness goals at their own pace and at the same time.
"Remember, you have control of the intensity," Lochridge calls out over the PA system. "Focus on good posture."
Lochridge's classes are 45 minutes and students progress at their own pace. Exercise moves are listed on a white board at the front of the class. Students perform 10 sets of each move in descending reps.
"As you get tired, you do one less rep," she said.
The goal is to do as many rounds as possible, Lochridge explained. "If you are very fit, you can get a lot accomplished. If you are just starting, you can still get a workout and not slow down the other participants."
As students complete their first set of exercise, one by one they drift out of the studio to walk, jog or speed walk around the indoor track before beginning their next set.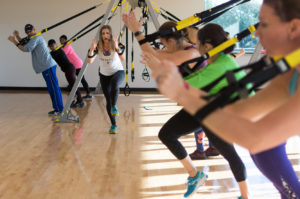 A new path to fitness
People of all fitness levels from beginning to advanced, and all ages, can benefit from TRX.
"It's a fantastic tool," said Lochridge, who teaches four classes a week. "Anyone of any fitness level can get in a great workout in a short period of time."
There are dozens of moves that can be done with the TRX straps that is an alternative to circuit training. TRX does not provide exercises that isolate muscle groups.
"You can do a bicep curl in the gym or a bicep curl in TRX, which is always working your core," she said. "With TRX it's all core all the time because we are always in a moving plank position, head to heel, always working the core. It may be your upper body or lower body but always engaging core muscles."
Lochridge, 35, is an Army wife and mother of two. She is a lifelong athlete and was on her high school's varsity volleyball and varsity track and field teams. While a student at Louisiana State University, where she earned her BS in kinesiology and sport studies, she ran track and field, threw shot put and discus, and did Olympic power lifting.
"Powerlifting and body building is all strength and performance based. Body building is all about aesthetics. It changed me in my kind of training I did after I graduated. I wasn't competing anymore. Body building and lifting is not a sustainable way to eat and live."
She came across TRX and found the exercises didn't put a lot of stress on joints, but still got her heart rate up and built endurance.
"With general exercise a person wants to look a certain way. With TRX, it's about being able to perform daily tasks and keep you free from injury. It gives you balance, stability, single leg coordination, works your glutes and core strength."
With cardio weight lifting she said you need at least two hours a day to work out. "Who has two hours a day to work out that way?" she mused. "Human muscles are not made to work out that way."
TRX has many levels. Lochridge said she can progress it to make it more challenging for the advanced student, or regress it to make it a very simple movement for a beginner or someone who is recovering from a medical condition or surgery.
Ashanti Williams, 37, is one of her medical success stories.
Williams, who has lupus and fibromyalgia, started TRX last February, after attending one of Lochridge's Healthy Habits programs. When Lochridge suggested she try TRX, Williams admits that at first she wouldn't be able to do the exercises because of her illness and the constant pain from fibromyalgia. At the time the only class she was taking was water aerobics.
"Katie showed me modifications," Williams said. "Once I started doing it, I fell in love with it and became addicted."
Williams said TRX helped her to become a lot stronger physically.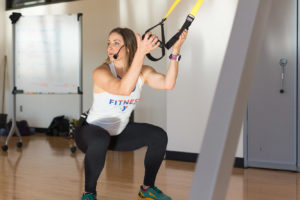 "My mobility is better. I'm able to take stairs and run on the treadmill next to Shelle, my partner in crime."
It also helped her to reach an important weight goal.
"I wanted to be under 300 pounds. I went from 336 to 295."
"Katie is my hero," added Shelle O'Hara-Bowen, 44. "She got me where I am today. I'd be lost without her."
O'Hara-Bowen said for her TRX is an "all around body workout. Not just one muscle group, everything else—stability, cardio, muscle — all at your own level. TRX has made me stronger. I see more results. I can do more than I thought."
Flexibility and stability are especially important as people get older.
"If you can't get down on the floor and get back up, what happens if you fall?" Lochridge asked, rhetorically.
For exercise enthusiasts who want to go beyond TRX, Lochridge said running "is a nice complement."
"With running, you are not always on two feet at a time," she explained. "TRX offers one-leg stability."
Spinning is another way to enhance the benefit of TRX.
"TRX people like to do everything. Spinning offers a mobility factor, a great stretch and more body buildup," she said. "So you don't necessarily need to do anything else.