REFIT keeps you moving with lively dance tunes
Story by CATHERINE HOSMAN
Photos by JULIE NABOURS
It's 9:30 on a Monday morning and the dance studio at the Summit Recreation Center in Temple vibrates with heart-pounding music. More than a dozen women sway, jump, rock and move to the rhythmic tunes without missing a beat or taking a break.
Except for a few seconds between songs to take a sip of water, the students in Jana Whitaker's REFIT cardio dance class never stop moving.
REFIT, or Revolution Fitness, is a cardio dance fitness program designed to reach not just the body, but the heart and soul, said Whitaker.
"It focuses on uplifting and encouraging music," she said. "We hear so many messages that we are not good enough, not strong enough. There is joy in the journey. It's good day to be alive. A blessing."
Positive musical lyrics are played over the loudspeaker and at one point the ladies go into a Rockettes-style dance move, kicking their legs as high as they could reach. And as one song ends, the group rolls right into the next song — their energy levels never waning.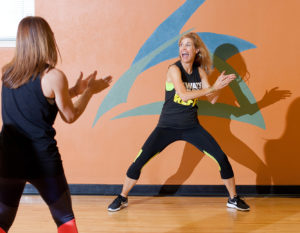 REFIT was founded in Waco by three women who wanted an exercise that promoted clean lyrics, a family friendly environment and a lot of fun.
"It is easy to follow, and it is an entry point to fitness," Whitaker said. "It not only ministers to us physically, but also spiritually."
REFIT burns about 800 calories an hour, builds muscle and increases heart rate. However, Whitaker said a person doesn't need to be physically fit to begin.
"Most gyms are not so subtle. You need to be fit to get into a gym," she said. "This offers a welcoming place for beginners to get started."
It also helps women who may have experienced an illness, surgery or who is currently undergoing treatments for a serious illness.
Winnie Wan is a cancer patient and has undergone chemotherapy and radiation. Three years ago she joined REFIT. Today she is waiting on the results of a new CT scan that will reveal if her cancer is in remission.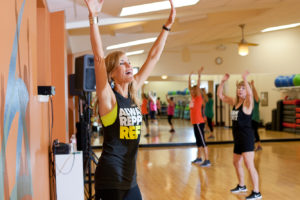 "She is so inspirational and has a positive energy," said Wan, speaking of Whitaker. "She makes us all smile all the time. I come here and feel the energy. It gets me out of the house and moving. The music she chooses has encouraging words. I made friends and got back my strength."
Student Karen Brantiver loves to dance. "Jana is an awesome instructor," Brantiver said. "She brings creative choreography and comes up with some of her own moves."
Brantiver joined the group eight years ago and has managed to keep off the 50 pounds she lost. "It keeps me accountable," she said. "And I made a lot of friends. If I'm not here someone will text me to see where I am."
"Recently we celebrated Karen's 1,000th class," Whitaker said. "Yes, one thousand! She has kept track of her punch cards so we mark each milestone. Karen lost over 50 pounds more than eight years ago and has kept them off.
"I love celebrating with many of my students when they tell me they've gotten off their insulin or other medications," Whittaker continued. "We also cheer for 'I made it through my first whole class' or 'my cancer scans were clear,' and even, 'I'm grieving but I'm here.'"
Whittaker said she modifies moves for her students that are right for them and their situation.
"It's so good for them to be here. It is a place of joy, a respite. 'I turned my mourning into dancing,'" she said, citing Psalm 30 verse 11.
Whitaker said the core value of REFIT is community. "We are a close-knit group of ladies," she said. "They check up on each other if one doesn't show up for class. You can stream an exercise program, but people come in here for the community."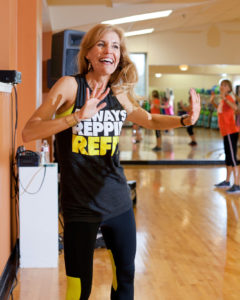 REFIT moves follow along the lines of standard aerobics, but with a twist of personal choreography from the instructor, and songs that you can almost sing-a-long to like a new rendition of Cecelia, first made popular in 1970 by Simon and Garfunkel. Other songs included popular Christmas carols reset to dance beats.
Class participants range in age from the 'tweens to the 70s and beyond. "No previous dance experience necessary," she said.
Healing moves
Jana Whitaker first came to REFIT as an injured runner. She was also besieged with depression after the birth of her third daughter and facing reconstructive surgery. She didn't feel well.
"Ellie was 1 year old when I was ready to have surgery," she recalled. "I had achiness in my joints, my stomach hurt, my hair was falling out and I had GI distress."
She also was diagnosed with Celiac disease, an autoimmune disease that was genetic in her family.
"Celiac can manifest itself," she said. "Doctors believe that stress is the common factor that activates our diseases."
Whittaker said she couldn't walk for 20 minutes and was depressed. Her body was starving and she was losing Vitamin B-12, an essential vitamin that supports the nervous and digestive systems. Now she follows a gluten free diet and cooks most of her own meals. She also focuses on whole foods in their unprocessed state.
"Veggies, fruits, nuts, plain lean meats — while going gluten free is not necessarily for everyone, I would recommend the Mediterranean diet for most people," she said.
She established her gluten free diet and started REFIT. She was the first person to sign up for training and is now known as the "original instructor."
Whitaker said to find a form of exercise you enjoy and invite a friend to join you.
"Having a friend present will help you adhere to any exercise program," she said. "You need to implicitly enjoy the activity and stick with it.
"It's energizing to workout with other women. It's a welcoming, encouraging environment," she continued "Try new things. Find some form of exercise you like.
"REFIT reduces stress and replaces negative emotions with positive experiences. It's a great facilitator of health, and many people find freedom and joy in dance."