Creating fabulous floral arrangements
The first thing most people think of when they go to their nearest H-E-B store is stocking up on groceries and supplies. They might pick up a plant or some flowers for themselves or friends from the floral department, not realizing that H-E-B offers more than grab and go florals. What most people don't realize is that H-E-B is also a go-to place for wedding flowers.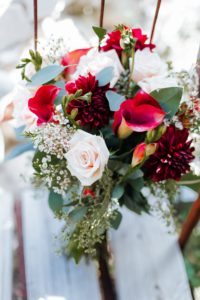 "People don't realize H-E-B does weddings," said Joyce Roulhac, floral manager for H-E-B Store No. 1 in Killeen. "We hear, 'I didn't know H-E-B does weddings!' Brides get excited to know H-E-B will assist them with beautiful designs for their special day. We are doing a lot more custom floral arrangements."
"Some of our floral departments in the area now offer online ordering for store pick-up and delivery, as well as wedding flower packages," said Margaret Garza, H-E-B Regional Business Coordinator.
Roulhac said now that H-E-B is custom arranging they are able to provide a bride with the flowers she wants.
"Our designers will assist you in selecting your flowers within your budget as well as meet your expectations for your special day," said Garza. A quote will be provided within a few days once we confirm pricing with our vendors."
"If it's in season, we will get it for them," Roulhac said.
Traditional flowers like roses, hydrangeas and lilies are still the flowers of choice for Roulhac's brides. This year's colors for bridal bouquets are hues of dusty blue, burgundy, peach, creams and softer colors, she said.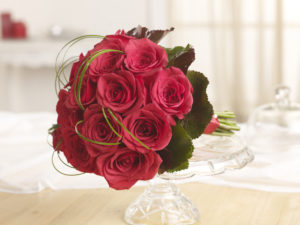 "Last year it was bright green, orange, blush and creams."
When ordering wedding flowers from H-E-B, Roulhac said brides should call to set up a consultation at least two months before the wedding date.
"This will give us time to place special orders for the flowers," she said.
When choosing wedding flowers at H-E-B, budget is a key element brides should consider, Garza said.
"Price points depends on what type of flowers they choose, the time of the year, the size of the bouquets/arrangements, how many pieces and if they want to add other elements like bling and special ribbon for their custom designs," Garza said.
"We will work within the brides budget and will offer alternative flowers," Roulhac said. "If their wedding is two months out and they want pink roses, we need to special order those to be sure to get their colors."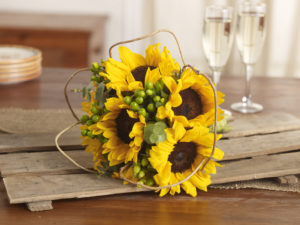 On some occasions, Roulhac said she will work with a bride one month out. "We live in Killeen and people get married on a whim," she said. "If they come in we will take care of them and even day of request."
Roulhac said most brides want a certain color or flower. H-E-B works directly with their growers to find the freshest flowers at the best price for the bride. When choosing wedding flowers at H-E-B, budget is a key element brides should consider, Garza said.
"The look they want could be achieved with less expensive blooms than what they may see online," Roulhac said.
In addition to custom designed bridal flowers, Garza said the H-E-B floral department also offers wedding flower packages.
"For brides who want a pick up and go, this is the package for them," Garza said. "The Weddings by Design by H-E-B packages include three different price points and seven different flower options. Brides can choose from our Hydrangea, Seasonal Mix, Alstroemeria, Rose, Sunflower, Stargazer or Carnation packages."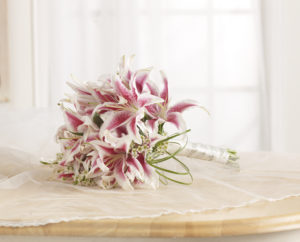 Roulhac said H-E-B designers are honored to work with brides for their special day, and make sure they are happy with her designs.
A 10 percent deposit is required to hold a wedding date and payment in full is due two weeks before the wedding. Some H-E-Bs do offer a payment plan.
"When you come in to see us, don't rush it," Roulhac said. "We want to spend time with you and give you all of our attention during a consult."
For more information, visit heb.com/flowers for store pick up/delivery and visit heb.com/weddings for Weddings by Design by H-E-B packages.