Wedding bouquets with simple elegance
When it comes to bridal bouquet trends for 2018 burgundy, pink, coral and peach are still colors of choice. White flowers with greenery remain popular.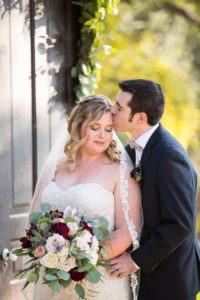 "We're still using eucalyptus, silver dollar eucalyptus, seeded eucalyptus and long-stem ruscus, which adds a touch of greenery with more flowers," said Ginny Swalley, owner of Creative Innovations of Salado. "This keeps the bouquet's Boho look, but without the bulk. It's more garden-y."
In previous years the Boho bouquet was overwhelming in size and heavy with greenery, she said. Now brides can keep the Boho look, but with a bouquet that is much lighter.
For brides who prefer a little color in their bouquets, Swalley said they can create "something more delicate. White with pops of color is very clean and simple, not complicated. Bridal bouquets are elegant in their simplicity."
Open pink garden roses, white dahlia and hydrangea are still popular choices.
"People walk into the door and love them," she said.
Baby's breath is still a constant and veronica, a wildflower-looking bloom paired with an anemone, a delicate white flower with a black center, gives the appearance of freshly picked wildflowers.
Most brides today turn to Pinterest for ideas and bring their selections into the florist to replicate the look. Swalley said brides are more realistic; however, when it comes to choosing flowers for their bouquets as the type of flower chosen could quickly increase the cost of the bouquet.
"Eighty percent of the brides don't know the flowers, but they know the look," she said. "As long as we stay in their budget, or what they can afford, they are not picky with the flowers. Brides ask me what is seasonal or local, thinking that will make a difference. But in reality, you can get any flowers you want all year round, except for peonies that are a cold weather flower. Flowers are international. There is no such thing as local blooms."
However, sometimes a bride does request Texas wildflowers for her spring wedding.
"I can go out and cut them, or a bride will gather them from her family's ranch and bring the flowers to the shop," she said.
The Undone Bouquet, another ongoing trend, Swalley said, offers a natural hand-tied look, not a round bouquet that is tight and structured, but keeping along the lines of a natural garden look.
Hair pieces
Swalley creates bouquets to complement the bridal gown. This year's fashions have changed from vintage lace to ball gowns and satin sheaths. In lieu of traditional headpieces, Swalley said some brides choose to tuck a single rose into the side of their hair.
"Very natural and pretty," she said.
Brides who choose to wear traditional headpieces still want to wear something in their hair at their reception and Swalley said they request "a petite halo with flowers and greenery to put in their hair — very garden-y and natural, but not overdone."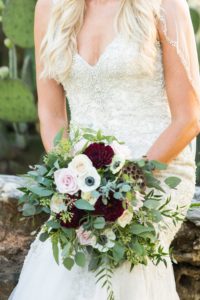 When to book a florist
How far in advance a bride books depends on what time of the year she is getting married. May, October and November are the prime wedding months in Texas.
"I'm already booking for September and October 2018," said Swalley, who prefers to book her services a minimum of six months in advance of the wedding date. "Six months out is minimal. But vendors book up fast."
As soon as you think you have a date, secure your vendors. Not just the florist. You can always decide later if you want brisket or chicken for dinner, red or white flowers in the bouquet. But if you don't book your vendors, you may not get close to what you want. Oftentimes a venue is booked a year in advance. Venues and vendors are already booked for next October.
Who pays for the flowers?
"This has not changed from time immemorial," Swalley said. "The groom's family pays for the bride's bouquet, corsages for moms and grandmothers, and boutonnieres for the groomsmen. The bride pays for her groom's boutonniere."
Although there is still a bouquet toss, Swalley said more brides are saying no to this tradition.
"They don't want to do that anymore because most of their friends are married," she said.
Creative Innovations
1211 N. Stagecoach
Salado, Texas
254-760-8620
www.creativeinnovationsweddings.com