Wedding cakes that offer a twist on tradition
Tamara Freeman of Sweet Eats in Killeen said when it comes to wedding cakes, what's old is new again. "With a little modern twist to it," she said. "It's the Roaring 20s with flowers, feathers and bling; and the 1960s earthy."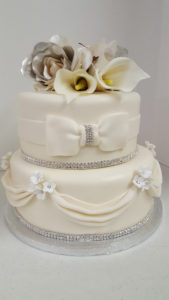 Bling and a shiny finish that gives the cake a platinum or shiny gold look is still a favorite among brides. But traditional butter cream is making a comeback, with a twist. Cakes are created with mixed textures, with a little touch of something modern on it. For an updated look, fondant is the best choice. "People who are precise want the fondant for that smooth look," she said.
Trending this year is the duo textured butter cream cakes, edible lace and the half wedding and half groom's cake, with chocolate frosting on one side and textured butter cream on the other. Personalized cakes that reflect a couple's persona continue to evolve with painted cakes and simulated birch bark-looking cakes for the outdoor couple.
Another new trend in weddings is the dessert table that gives guests other options for a sweet treat. "I have done brownie bites and assorted cookies, many cupcakes, cake pops, cake balls, cheese cake bites," Freeman said.
"Anything bite size that you can grab and take a bite out of it."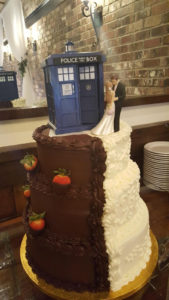 Personalized grooms cakes are becoming more elaborate. Freeman has created a cigar cake, a dirt mountain with trucks on it, the Tardis from "Dr. Who," sports games, a favorite bottle of whiskey, tennis shoes, the theme from a favorite movie, a gambling table, or even a reproduction of the groom's favorite food. "All that kind of stuff," she said.
Flavors and fillings
For the bride's cake, she said vanilla is still the flavor of choice, and chocolate for the groom's cake. Fillings range from a white chocolate mousse-type filling, raspberry, strawberry butter cream. Also, each tier of a cake could be a different flavor.
Freeman said the most important thing a bride should know when ordering the wedding cake is to request a tasting. "Please don't come in and say 'what do you make?' I want you to come in and know what you want. What do you want to taste? You may not like what I like. Also, know how you want your cake decorated. Is the style round, tiered with pillars, or some idea of how you envision your cake? Have some idea of what you want. Bring in different pictures. Let me know what you like and I can sketch it out. If that is what you envision, that is what I'm going to try and create for you."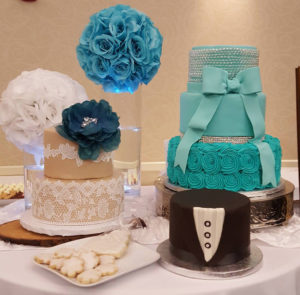 Sweet Eats requires a minimum booking of at least three months before the wedding. Depending on what kind of cake you choose, supplies sometimes arrive broken and Freeman wants to make sure she has time to correct any errors. "I prefer no less than three months, and that's pushing it in case we need to order things to put the cake together. If I have a date, then I won't take anyone else on that date," she said. "I want to make sure I have everything I need and not rush at the last moment to try and put your cake together."
A 25 percent nonrefundable deposit is required, which is applied to the cost of your cake. The balance is due three weeks before the wedding. Keep in mind that cake prices vary depending on the design and materials for the cake.
"It depends on details and how much work I put into it," Freeman said.
Sweet Eats
1010 W. Jasper Drive #12, Killeen
254-628-0497