Harpist offers a different kind of wedding march
Gretchen Williams brings a subtle sophistication to weddings through the magic of her harp. The moment she sits behind her elegant instrument and begins to strum the chords, music seems to float through the room on a current of air.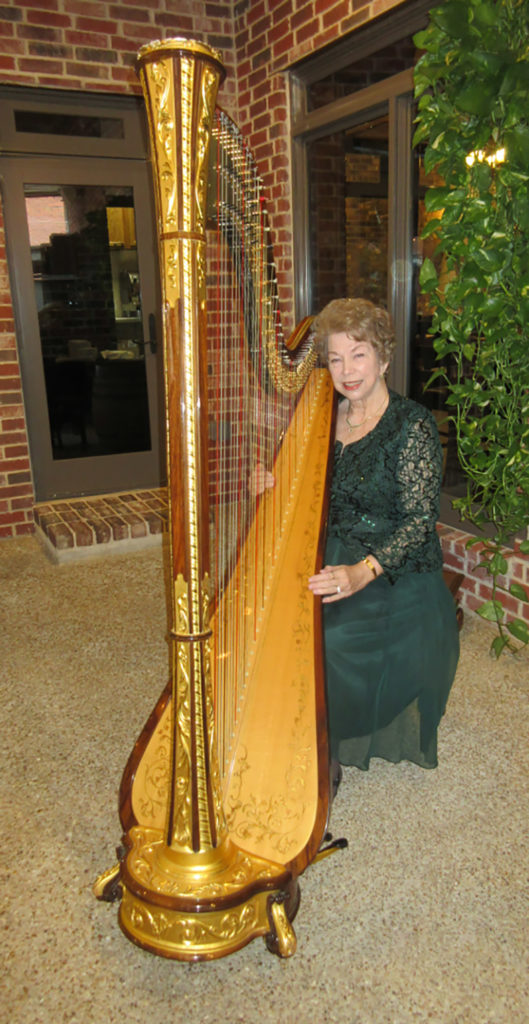 Williams has been playing harp since she was 7 years old. She continued to take harp lessons through high school and up to her first day of college. The harp took a backseat to her education while she studied biology. She taught in public schools for 21 years and although she did keep playing her harp, it didn't become a business until she retired.
Today she plays for weddings and an assortment of special occasions.
"A lot of mothers had a harp at their weddings, and they hope that their daughters will want one too," Williams said. "At first, brides (and grooms) are not sure if the harp is too high class. But when they listen, they are pleasantly surprised."
Williams knows how to guide a bride to the appropriate song for a wedding ceremony or reception dinner. From the traditional wedding march, to sacred and classical, to modern day love ballads, Williams knows how to work with a bride to choose the right music.
Book six months out
And like other vendors, if you want a harpist at your wedding, it's best to book six months before the wedding day. If a bride books on a short notice, there's a good chance that date is already taken.
"Some brides will book one year out," Williams said. A non-refundable deposit is required to hold her services.
Occasionally a bride will call her for a midweek ceremony. If her schedule is open, she will play on a short notice.
Williams' wedding music catalog is extensive.
"Brides shouldn't worry if they don't know about wedding music. I will help them through the process of choosing songs or music for arranging," she said.
If a special love ballad or song is requested that is not on her playlist, she can arrange selected songs from piano music for the harp.
Couples are welcome to bring their family for an initial audition before choosing songs, but she reminds that she needs at least two to four months if a custom arrangement is requested.
"Four months is optimal," she said.
Williams hires by the event. For example, a ceremony is usually 45 minutes to an hour. If a bride requests her to play during the reception and dinner, which usually runs one and a half to two hours, that would be considered extra time.
She arrives at the location 60 to 90 minutes ahead of the event to allow her instrument to sit in place for 30 minutes. Her harp needs to be tuned each time she moves it.
Because of the delicacy of her harp, she prefers inside weddings, but will consider playing outdoors, weather permitting. The instrument should not be exposed to rain, humidity or excessive heat. However, she will consider an outside wedding with a Plan B in place in the event of rain.
"I am passionate about the harp. It is a beautiful instrument and I can create beautiful music for anyone who wants harp music at their wedding," Williams said.
www.centexharpist.com