Pediatric transport teams put children first
Story by Catherine Hosman | Photos by Julie Nabours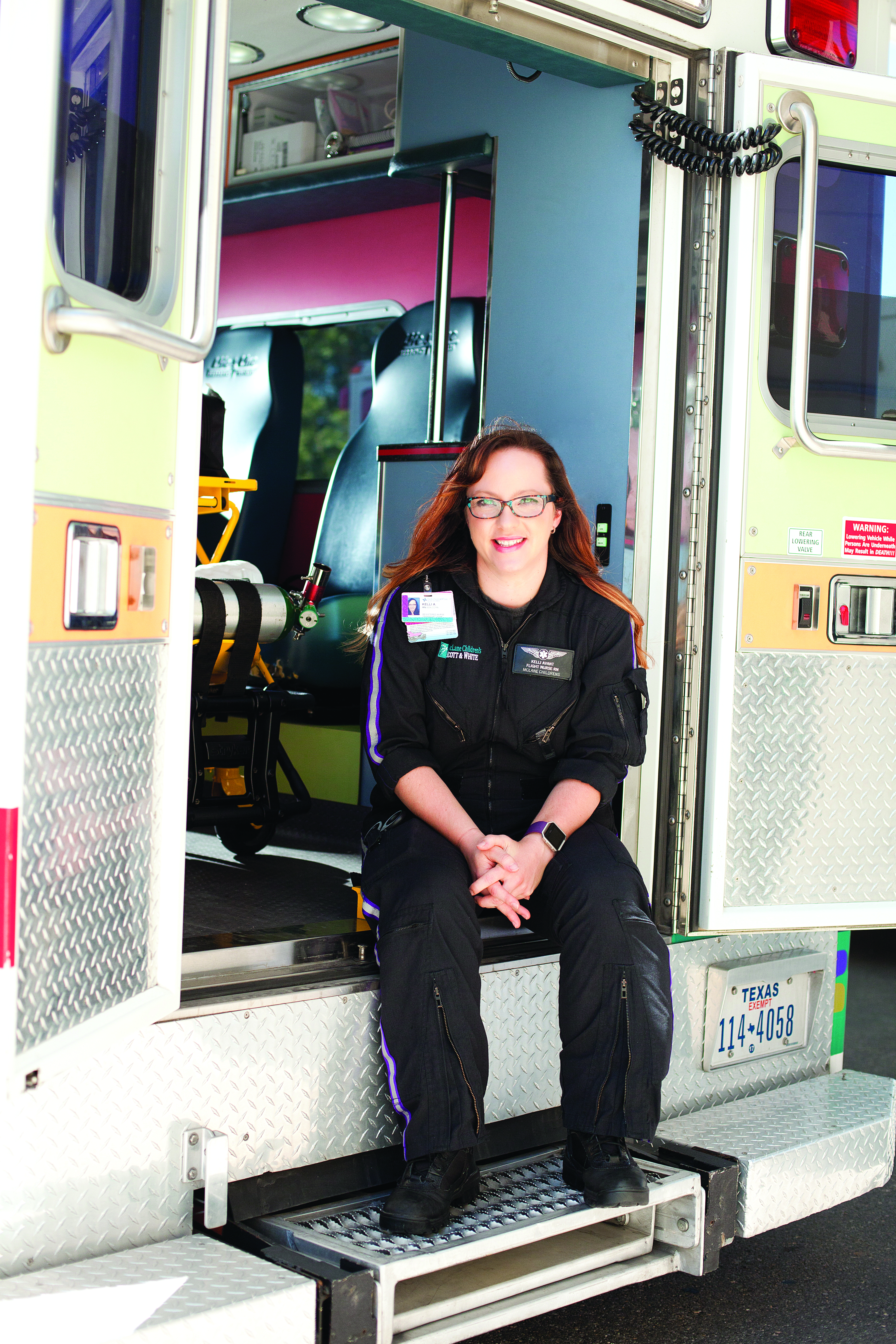 Pediatric Transport Nurse Kelli Avant walks down the hallway of the Baylor Scott & White McLane Children's Medical Center emergency department looking more like a fighter pilot than a nurse in her fire-resistant flight suit.
In some ways she is a warrior because every time she and her team leave the medical center in their specially equipped ambulance, or lift off the ground in the medical center's transport helicopter, they are on their way to help a child in crisis and transport him or her back to the medical center for treatment. There are 10 to 15 helicopter transports and 100 ambulance runs each month. The team has gone as far south as Corpus Christi and Galveston, to Abilene in the northwest, and nearly every place in between.
Avant and her team, which includes a respiratory therapist and a paramedic, put the child's safety concerns ahead of their own. Their goal is to reach the ill child, give him or her, the best life-saving medical care they can administer on their medical helicopter, or in the mobile intensive care ambulance, as they transport the child to MCMC.
Before McLane Children's Medical Center opened at its current location in 2011, it was housed at Scott & White Medical Center – Temple. Avant was a pediatric intensive care unit nurse for three years at the children's hospital within a hospital, where children were hospitalized close to adults. There was no pediatric ambulance, though there was a neonatal transport team. When a call came in, nurses were pulled from their patients to board the Scott & White ambulance to pick up a baby for transport back to the hospital.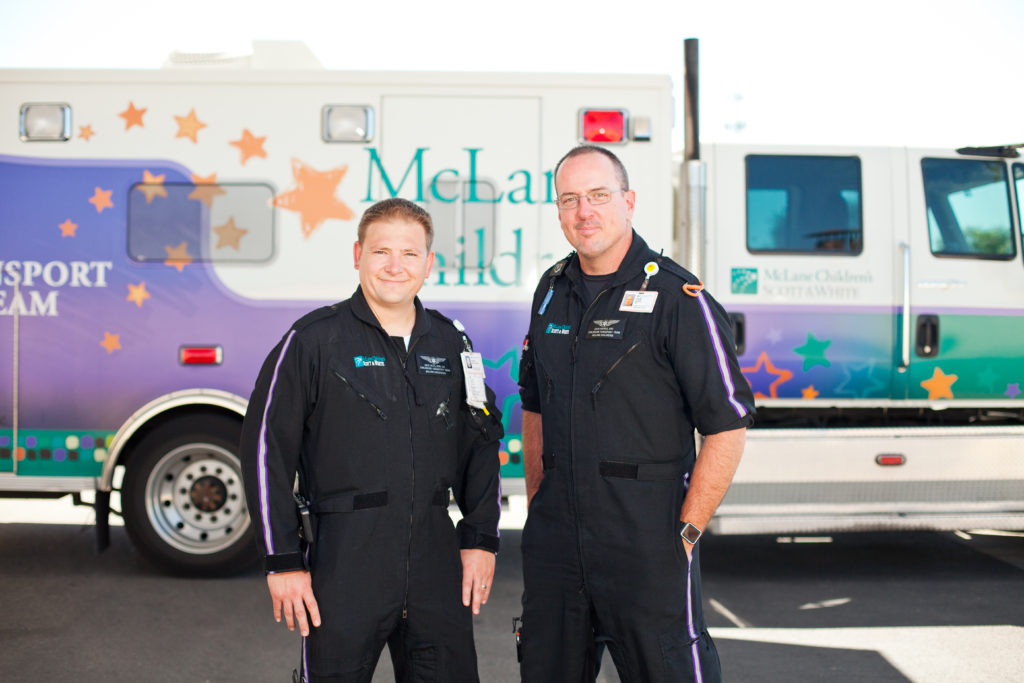 Performing basic intensive care in an ambulance or helicopter is a much different experience than being in the medical center PICU or neonatal intensive care unit, she said. It takes a person who has the ability to be confident, calm, work under pressure and be able to anticipate a problem before it happens.
"Kelli is really confident and self-aware in what she knows and what she doesn't know, so that makes her able to perform at a really high level," said Brandon Dudik, manager, McLane Children's Transport Team. "You need to have confidence with yourself and the team and be able to do a lot of things independently that you would otherwise do in a hospital. When the patient is in an aircraft or ambulance, you don't have the support you would rely on in a hospital."
"In a hospital ICU critical care is administered in a structured environment with full staff, equipment, and doctors on site," Avant said. "As part of a transport team you don't have your resources, you don't have the equipment that you have in an ICU. You ask yourself, 'How are we going to make this work in a confined space?'"
In a confined space where children's lives are saved, every inch of space is utilized. Machines are strategically placed where they can be accessed by team members. Overhead storage bins hold necessary medical necessities. A refrigerator or cold storage carries critical medicines.
"You have to know the patient equipment is behind the seat. You have to know what a patient needs before placing him or her into the ambulance or helicopter," she said. "I evaluate, observe, prepare and I'm ready to expect the worst."
"You also have to be analytical and really be able to analyze the situation and prioritize what needs to be done," Dudik added. "You can't go and take forever. The clock is running and the hospital expects us to get the kids back in a safe manner. You need to be able to act fast."
Avant has been a pediatric transport nurse and team leader for six years and said she knows she has the ability and confidence to provide critical care to a child en route to the medical center. She is one of 17 specially trained medical professionals on duty 24/7, who work in teams of three on 12-hour shifts.
"We are just all appreciative to be able to do this as an extension of our hospital and parents can see the kind of care their children will get at MCMC," Dudik said. "We have the support of every unit in this hospital, the ED, PICU, NICU — it's a big collaboration of support and education that we get from them so that we are maintaining the same level of care that they (the hospital) give."
"We're not just moving from Point A to Point B," Avant added. "I am taking care of the child and if something happens, I have the ability to take care of that problem. I have advanced skill training. There is no physician so the pediatric nurse needs to be able to intubate, insert a chest tube or catheter, umbilical lines on neonates, needle decompression, and be able to perform advanced medical procedures."
While Avant and her team are providing critical care in transit to their patient and monitoring vitals, a report is being transferred to the doctors at the medical center waiting for the transport vehicle to arrive and continue the care without missing a heartbeat. Despite all of their efforts to stabilize and save a child's life, there are times when the outcome is poor.
"The weight of being a transport nurse is heavy," she said. "You feel so responsible. In transport we carry the weight of a bad outcome. It affects you deeply."
Avant graduated from Texas Tech University with a bachelor's degree in nursing. She holds certificates in Basic Life Support, Advanced Cardiac Life Support, Pediatric Advance Life Support, Neonatal Resuscitation, Trauma Nurse, Certification of Nursing Excellence and Certification-Critical Care Registered Nurse. She maintains these certifications through continuing education.
"I knew I wanted to do this the whole time I was in school," Avant said in closing.