Belton Lake Outdoor Recreation Area
21st Annual Nature in Lights
Nov. 17-Jan. 7,
5:30 to 11 p.m.
Santa's Village
Nov. 17, 18, 19
5:30 to 11 p.m.
Nov. 23 to Dec. 10, Thurs – Sun,
Dec. 14 to the 24, Nightly
Santa's Depot
5:30 to 11 p.m.
Fri-Sun: Nov. 17, 18, 19
Nov. 23 to Dec.10
Thursday through Sunday
Dec. 14 to 25, nightly
Outdoor Theater
Holiday Cartoons on select nights.
With Nature in Lights, the Directorate of Family and Morale, Welfare and Recreation turns BLORA into a winter wonderland for kids and kids at heart. This event is open to the public and visitors can drive through the 800 plus-acre park nightly and enjoy five and one half miles of illuminated displays, many computer animated, and ranging in size from a single strand to scenes spanning 40' x 300' wide, as well as architectural and foliage lighting.
Guests can shop for gifts, take photographs with Santa, concessions will be available at Santa's Village, located in the park's enclosed and heated Live Oak pavilion. Visitors can also stop at Santa's Depot, located at BLORA's Marina parking lot, and hop aboard the train for a ride through an exclusive trail of lights, enjoy concessions under the stars, ride a pony, shop for glow-in-the-dark toys, or just stretch their legs on a playground before the ride home.
Tickets for the trail of lights may be purchased the night of visit at the park's main gates. Train and pony ride tickets can be bought at Santa's Depot.
Rates follow:
$15/car, mini-van and pick-up
$30/15-passenger van, limo or RV
$50 /24-passenger van
$75/47-plus passenger bus
Train: $5 adults; $3 children 11 and under (lap children ride free)
Pony: $5
Come early and receive a commemorative ornament on Monday, Tuesday & Wednesday evenings, while supplies last!
For more information, directions and weather related status call the Park Reservation Office at 254-287-2523; for directions visit www.hoodmwr.com.directions/htm.
Christmas on the Creek
Nov. 23 through Jan. 2.
Join us for our 5th Christmas on the Creek at W.M. Brook Park. Stroll or drive to enjoy the thousands of lights draped from trees, the pedestrian suspension bridge and the historical hostess house. Our displays have been newly designed for the 12 Days of Christmas. Visit Santa's village where kids can move their names from the naughty to nice list, see Santa's workshop and home. On Dec. 9 there will be music, hot chocolate and food and beverage for purchase from food trucks.
W.M. Brook Parka
310 U.S. 281, Lampasas
Visit www.facebook.com/LampasasChristmas/ for updated information.
Carol of Lights, Lampasas
Lighted Christmas Parade
Dec. 2, 10 a.m. to 8 p.m.
Parade 6:30 p.m.
Admission $1 to enter Courthouse
Some fees for grown-up activities
Everything is free for children.
Carol of Lights is an all-day Christmas event that kicks off in the Lampasas County Courthouse filled with boutique vendors. Santa Claus will be on hand to visit with children, and Mrs. Claus will read stories and has gifts for the youngsters.
The Lighted Christmas Parade will have a lot of floats. Watch for Santa, Mrs. Claus and an elf in the grand finale of the parade.
Courthouse admission benefits the Town and Country Study Club Scholarship Fund.
Courthouse Square
409 S Pecan St., Lampasas
Email info@VisionLampasas.com, visit www.visionlampasas.com, or visit them on Facebook for more information.
25th annual performance of
A Christmas Carol at Table Rock
Dec. 1, 2 and Dec. 8, 9
Concessions open at 6:30 p.m.
Show begins 7 p.m.
$10 adults, $5 Students, $3 children 12 and younger
Adapted for the stage by Harry Sweet, Dickens' Yuletide play will put you in the right holiday spirit.
Tickets sold at the gate the night of the performance. Tickets also available in advance at www.tablerock.org. For group tickets (20 or more), call 254-947-9205.
Christmas on the Chisholm Trail
Dec. 2, noon to 7 p.m.
Parade starts at 6 p.m.
A Christmas celebration filled with family fun, festive music, food, vendors, Santa Claus and a Christmas parade in downtown Belton. Kids can enjoy carnival games, visit with first responders and hop onto a fire truck, and meet with Santa Claus at the Courthouse. Parade rain date is Dec. 9.
Call 254-9333-5860 or visit www.beltontexas.gov for more information.
Temple Convention and Visitor's Bureau
Annual Santa Fest Holiday Market
Dec. 2, 10 a.m. to 4 p.m.
Free admission
Get in the spirit of the season and enjoy arts & crafts vendors, food trucks, and great deals from local merchants. Admission to the market is free; however, merchandise and food are purchased on your own.
Frank W. Mayborn Civic & Convention Center
3303 N. Third St., Temple
Call Sennett Farias at 254-298-5900, or email sfarias@templetx.gov for more information.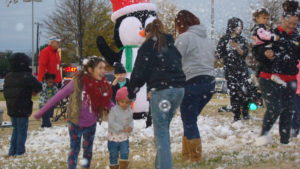 City of Harker Heights
14th Annual Frost Fest and
7th Annual Holiday Farmers Market
Dec. 8, 5:30 to 8:30 p.m.
Kick off the Christmas holiday season with free hot chocolate and cookies, Wreath Decorating Contest, a visit from Santa, snow, Holiday Farmers Market and more. At this year's Frost Fest visitors can shop for those unique holiday gifts at the Holiday Farmers Market, play in the snow, and listen to Christmas music. Crafters can get involved by entering the Wreath Decorating Contest. The public will view and vote for their favorite entry at Frost Fest. 1st, 2nd and 3rd place and prizes will be awarded. In addition, the Harker Heights Fire Department will have a drop off area where the public can bring new unwrapped toys for their Santa Pal program.
Market Heights Shopping Center
201 E. Central Texas Expressway
Call 254-953-5465 or email nbroemer@ci.harker-heights.tx.us for more information.
Holiday happenings will repeat next month. Email your holiday happenings to editor@texappealmag.com by Nov. 1 for inclusion in the December issue.