Creating new traditions: Hildenbrand family builds excitement for Christmas
Story by CATHERINE HOSMAN | Photos by MICAH HILDENBRAND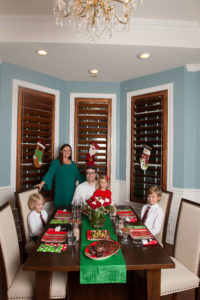 Christmas dinner is anything but traditional at Micah Hildenbrand's home.
Instead of turkey with dressing, ham and all the trimmings, the entrée is more along the lines of macaroni and cheese, chicken legs, pizza, Brussels sprouts, apple pie, chocolate mousse and even cinnamon toast crunch — a new menu idea created by her three children, Chase, 8, Callen, 7, Finley, 5, and her husband, Eric.
"I grew up with traditional Thanksgiving and Christmas dinner," said Micah, who is originally from Guymon, Oklahoma, where she was surrounded by an extended family that included her siblings, grandparents, aunts, uncles and cousins.
Christmas in her family's home began as soon as Thanksgiving ended. Her mom gathered all of the cooking pans and utensils and began the annual rite of making different candies, including homemade fudge, and baking cookies, usually more than once.
"Mom was an amazing baker and cook. The recipes in her cookbook were dog-eared," said Micah, adding that she loved seeing her mother's handwritten notes in the cookbook.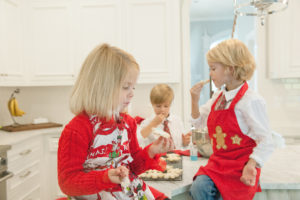 One of Micah's favorite holiday events growing up in Guymon, was driving through town to see all the Christmas lights. Strings of lights hung from homes and businesses, illuminating the town of 10,000 residents.
"I loved looking at Christmas lights," she said.
Every Christmas Eve, Micah, her parents and siblings gathered at her maternal grandmother's house. "We lived close to mom's family. Christmas Eve was great."
That evening, Micah and her two brothers got to open one gift. "It was always matching pajamas," she said. "Very convenient."
Christmas Day was spent at home with her parents and siblings, the children wearing their new PJs from the night before.
"My older brother, Matt, could win an award for impatience. The night before big events, he didn't sleep," Micah said.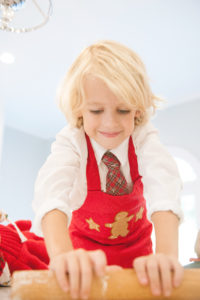 Matt would wake up the family even before the sun came up, announcing that Santa had been there. "He filled stocking. Everyone got one big present from Santa," she said.
Before long, Micah and her two were ripping open their presents under the tree. "I didn't know there was a way to do it, where you took turns opening one present at a time. We just ripped into them, tearing them apart, playing with the toys.
In her mom's footsteps
Micah wanted to follow in her mother's footsteps and pass on the traditions she enjoyed to her children from looking at lights, to the gift of new matching pajamas for the kids on Christmas Eve, to the elaborate holiday dinner of turkey, ham and all the trimmings.
"Growing up the whole Christmas season was something special. Christmas Day was the accumulation of everything. I wanted my children to have memories of not just Christmas morning, but of baking cookies, drinking cocoa out of gingerbread mugs.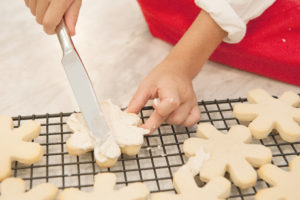 "There is always one more thing to try and something different to do every day," she said. One of the things they do is go and look at lights, drive through BLORA, and go see their kids in the church Christmas pageant. "We do a lot of things, building excitement for Christmas."
Like her mom, Micah starts getting ready for Christmas the day after Thanksgiving, prepping and baking Christmas cookies.
"My favorite cookies are snowflake cookies," said daughter, Finley. "We put blue sprinkles on it. Icing and sprinkles."
Ginger cookies are Callen's favorite.
Redefining dinner
The Hildenbrands moved to Temple three years ago for Eric's job as a general counsel attorney for the food division of McLane Company, Inc. The kids were small. Chase was 5, Callen was 4 and Finley was just 1. They relocated from Southlake, a suburb of Dallas, and just a short drive from her parents' home in Oklahoma City, where they would spend Christmas.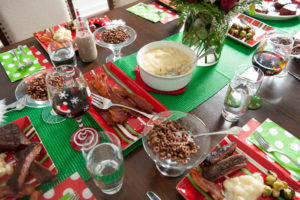 They moved into their new home on Christmas Eve. There was a lot of unpacking to do, but the first thing Micah did was to find all of her decorations, cooking and baking pans and utensils to get ready to emulate the holiday she remembered as a child. This was their first year celebrating Christmas away from her family and she was looking forward to preparing her family's feast. She baked cookies, more than once, and created a dinner of turkey, ham, corn bread dressing and all the trimmings. "I spent hours cooking a traditional Christmas dinner. When we sat down and I put a little bit of everything on the kids plates, they only ate the rolls."
"I wasn't ready to be a carnivore yet," 8-year-old Chase said.
"I wasn't in the mood," added 5-year-old Finley.
Callen, 7, who is the family's picky eater and prefers separating his food on the plate chimed in, "I liked the ginger cookies."
"I decided right then that I would never spend so much time on a meal that would not be eaten," Micah said. "I should have spent time making all their favorite foods."
The kids unanimously decided turkey and all the fixings were out for Christmas dinner. In were ginger cookies and cake, bacon and steak, macaroni and cheese and chocolate milk, along with all the homemade goodies including Monkey Cake that Micah bakes on Christmas morning while everyone opens their gifts.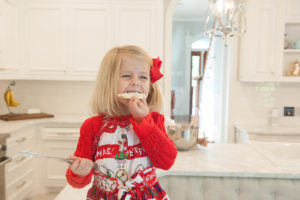 Everyone in the family gets to pick two of their favorite foods for Christmas dinner. This year Eric chose smoked salmon and ribs; Callen asked for Frosted Mini-Wheats and ginger cookies; Chase wants bacon and steak; Finley opted for mac & cheese and chocolate milk, and mom decided on steak and wine.
Setting the dinner table is a family affair and each child has a specific job to do. Finley brings the plates, Callen sets the forks and knives and Chase brings in glasses of water.
"I can eat something I actually like," said Chase, of their creative menu choice. "There are a ton of leftovers, but we eat what is left."
"Bacon," Callen said in a low voice.
"You just get to pick it and have whatever you want," Finley chimed in. "Even cake."