From the Editor | November 2017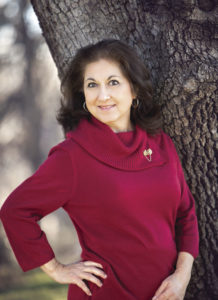 Dear Readers,
It's hard to believe another year has passed and the holiday season is upon us.
While searching for this month's stories, we found a variety of topics that shed light on Central Texas' holiday season. From a Black Friday shopper to a family who opens the doors of A Soldier's Hospitality House each year to share Thanksgiving dinner with soldiers who are far away from family; Christmas on the Farm is in its 10th year of fun with a purpose as it brings awareness to the epidemic of family violence; and a family that decided a traditional holiday meal was out and their own traditions were in.
Neighbor Melissa Peloquin is one of those brave souls that tackles the crowds on Black Friday. She's been an avid Black Friday shopper since her high school days and even admitted to camping out the night before the big sale to be first in line for the right deal, Page 12.
Blended with our regular calendar page is a preview of holiday events coming to Central Texas in December. From Christmas on the Chisholm Trail in Belton, to the Carol of Lights in Lampasas, these are just some of the fun things families can look forward to next month, Page 22.
Do you ever get tired of spending hours making a big holiday meal for your family? Have you ever wished for something simpler? Meet the Hildenbrand family. After creating a labor-intensive traditional holiday dinner for her young family and seeing the disinterest of her children in eating a turkey with all the trimmings, the Hildenbrands created their own tradition, Page 36.
After a big meal, what can be more enticing than those yearly holiday treats made from scratch or by hand that everyone waits the whole year to eat? Get a taste of some of Tex Appeal's staff favorite recipes, Page 17.
Whatever you decide to cook, keep in mind safe handling, cooking and storing of your fresh foods. A little caution can prevent tummy problems later, Page 54.
Sometimes the holidays can be uncomfortable for people who have lost a loved one or are going through personal struggles. In her book, "Turning Your Scars into Stars," Dr. Sue Hamby takes us on a journey through her own grief to guide us to that other side where stars take the place of scars," Page 27.
If you are looking for a kid-friendly day trip during the holiday season, look no further than East Austin and take a step back in time at the Jourdan Bachman Pioneer Farms where you can experience a 19th century Prairie Christmas, Page 57.
Wherever you are in your busy day, take a break, pour a cup of your favorite warm beverage and cozy up with this month's issue of Tex Appeal Magazine.
Catherine Hosman
Tex Appeal Editor
editor@texappealmag.com
254-774-5234