11 can't-miss Texas Hill Country towns
Eleven towns in the heart of the Texas Hill Country are gearing up to greet visitors. Main streets, historic buildings and more will be decked for the holidays with thousands of lights and other décor through December. The towns also have parades, markets and other events planned during the holiday season.
Here's a sampling of what you'll find along the historic Hill Country Trail.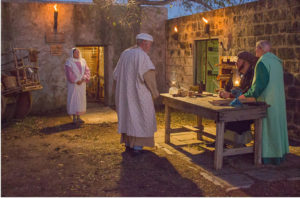 Burnet
First Baptist Church turns Burnet turns into Bethlehem on Dec. 1-3 and Dec. 8-10 from 6 to 9 p.m., weather permitting. Walk through gates of costumed townspeople tending to animals, making bread and view the live nativity scene to see what life was like in the ancient city at Christ's birth. Admission is free, though donations are accepted. Free cookies and hot chocolate are served at the exit. No pets are allowed, except certified service dogs. For more information, go to www.fbcburnet.org/ministries/main-street-bethlehem/ or call 512-756-4481.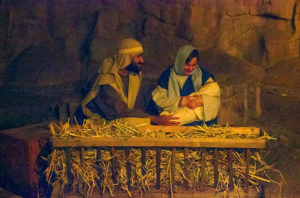 On Dec. 9, enjoy Christmas on the Square from noon to 9 p.m. Events include a parade with a visit from Santa, a bicycle giveaway, and the lighting of the Burnet County Courthouse, along with arts and crafts booths and live entertainment along the Historic Courthouse Square at 229 S. Pierce St. For more information, call the Burnet Chamber of Commerce at 512-756-4297.
Dripping Springs
Historical Mercer Street gets in the holiday spirit from 10 a.m. to 5 p.m. Dec. 2 for the 13th annual Christmas on Mercer Street. The festivities include arts and crafts booths, children's activities, a petting zoo, photos with Santa from 10 a.m. to 2 p.m., live entertainment and food vendors. Visitors also can explore local shops and stay for the D.S. Lions Christmas Tree lighting in the Triangle at U.S. Highway 290 and Mercer Street at dusk (about 6:15 p.m.). Admission is free. For more information, email dslionsclub@gmail.com or call Dripping Springs City Hall at 512-858-4725.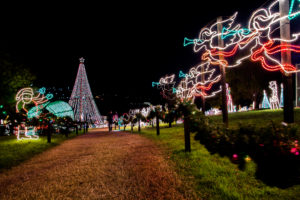 Boerne
You won't want to miss the 2017 Weinachts Fest Parade that lights up the Boerne Historic District and kicks off the Christmas season. In its 31st year, this year's theme is a Lonestar Christmas. Santa and Mrs. Claus will make an appearance during the parade, which has up to 100 entries and winds along Main Street from Frederick Street to River Road. It starts at 6 p.m. Dec. 2, with a bad-weather makeup day on Dec. 3. For more information, call 830-249-9511 or go to www.ci.boerne.tx.us/564/Weihnachts-Parade.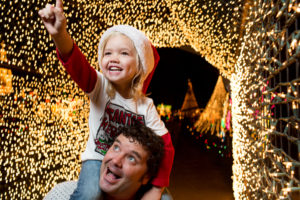 Marble Falls
More than 2 million lights and 400 sculptures will delight visitors who stroll through Lakeside Park in Marble Falls for the city's 27th annual Walkway of Lights. The display is open from 6 to 10 p.m. daily through Jan. 1. Admission is free, but visitors can purchase concessions or take photos with Santa to support various nonprofit organizations.
Pets are not allowed, and the display will be closed for rain or other bad weather.
For more information, go to www.marblefalls.org/events/2017/walkway-of-lights or call 888-MF-LIGHTS.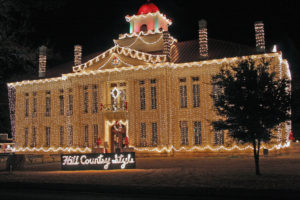 Johnson City
The "twinkliest town in the Hill Country" celebrates the holidays with its 28th annual Lights Spectacular, which kicked off Nov. 24 with the lighting of the Courthouse, City Park and three city blocks with more than 1 million lights. Bring your kids and pets to tour the city's lights through Jan. 1. Other holiday events include the Living Story of Christmas from 6:30 to 8:30 p.m. the first two weekends in December at the First United Methodist Church. Or tour President Lyndon B. Johnson's boyhood home by lamplight from 6 to 9 p.m. Dec. 2, 9, 16 and 23. The Dec. 2 celebration includes Christmas through the Years with live music, a chuck wagon demonstration and cowboy poetry. For more information, go to www.johnsoncitytexas.info/lights-spectacular.html or call 830-868-7684.
Fredericksburg
The Fredericksburg Chamber of Commerce ushers in the holiday season with the Light the Night Christmas Parade at 6:30 p.m. Dec. 1. More than 130 entries, including bands, floats, animals and Santa are expected to delight those who gather along Main Street, between Washington and Bowie, beneath the glow of twinkling lights. The parade is free, but limited, reserved bleacher seats are available for $17 at http://lightthenightchristmasparade.com.
Before and after the parade, enjoy AfterGlow activities from 3 to 9 p.m. There's food, local wines, holiday shopping, family entertainment, and photos with Santa and Mrs. Claus from 8 to 10 p.m. in the Marktplatz. For more information, call 830-997-5000.
On Dec. 2, visitors can explore the 60th annual Holiday Home Tour and Market. Seven homes in and around Fredericksburg open their doors for self-guided tours. The market, which has 22 boutique vendors, is located in the GCHS Sanctuary and Social Hall at 312 W. Main St. The home tour is from 11 a.m. to 5 p.m. and the market is from 9:30 a.m. to 5 p.m. Admission to the market is $5 at the door. Home tour tickets are available online at http://www.pioneermuseum.net/home-tour–market-2017.html and include admission to the market. Maps will be available at the Pioneer Museum, 325 W. Main St. For more information, call 830-990-8441.
Gruene
Cowboy Kris Kringle comes to town on horseback Dec. 2 and lights Gruene for the holidays about 6 p.m. Before the annual town lighting, take pictures with Kris Kringle from 10 a.m. to 4 p.m. near the Gruene General Store. Cowboy Kris Kringle also will be available for photos from 10 a.m. to 5 p.m. Dec. 9, Dec. 16, Dec. 22 and Dec. 23, and from noon to 5 p.m. Dec. 3, Dec. 10, and Dec. 17. For more information, go to http://gruenetexas.com/kringlephotos.php.
On Dec. 2-3 find holiday gifts from 10 a.m. to 5 p.m. at Old Gruene Market Days (http://www.gruenemarketdays.com/event.html). Admission is free and there's live entertainment to enjoy as you browse and shop in historic Gruene. When you're in the area, take a short detour to view the Christmas lights in nearby downtown New Braunfels.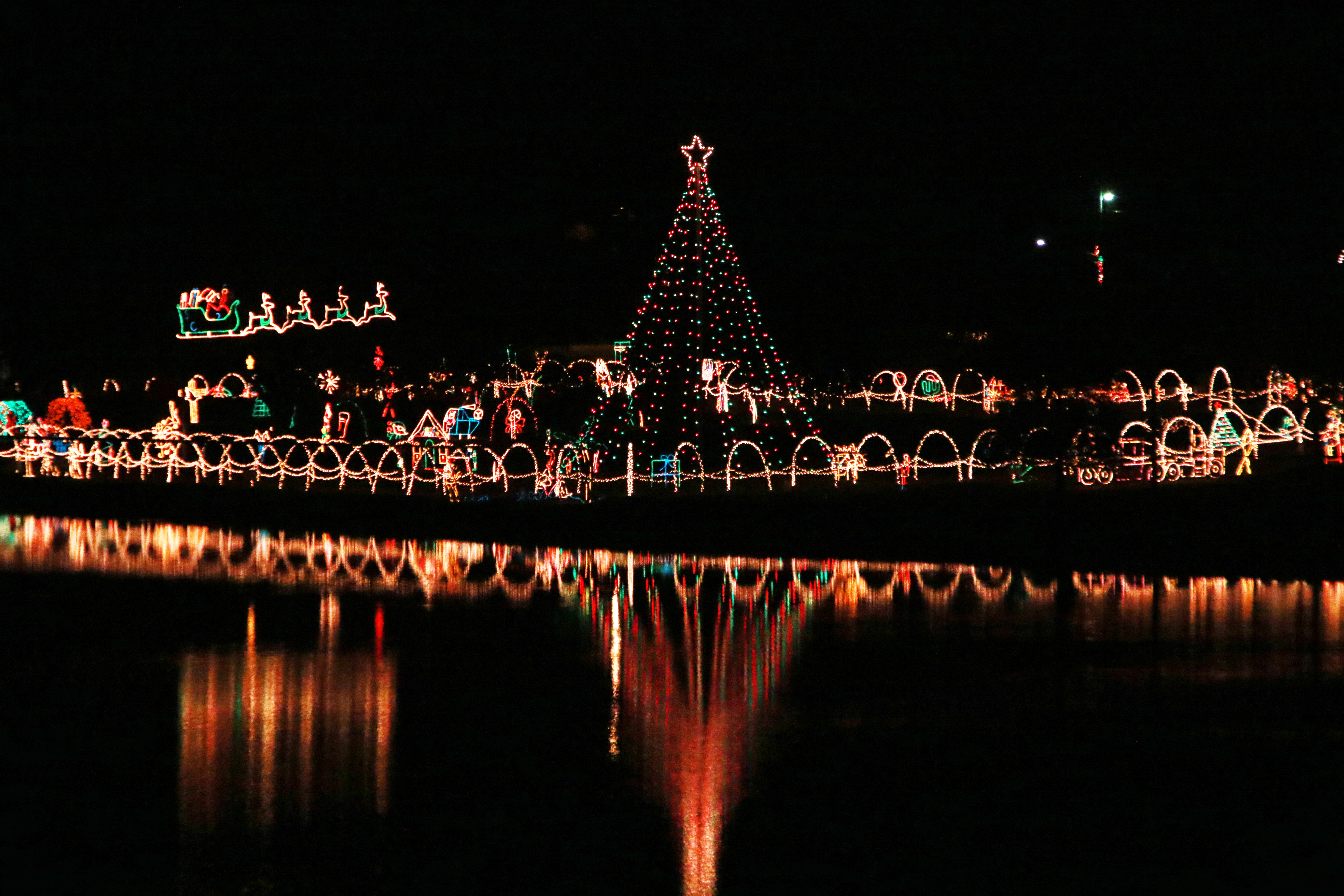 Llano
Enjoy the Starry Starry Nights Lighted Christmas Park in Llano from 6 to 9 p.m. nightly through Dec. 31 at Badu Park, 300 Legion Drive. Admission is free, but donations are accepted. Santa is available for photos from 6 to 8 p.m. Fridays and Saturdays through Dec. 23.
Before you enjoy the light display, stop through town to explore local shops with Christmas on the Llano. The chamber of commerce plans special drawings each Saturday in December. The city also has a lighted Christmas parade down Ford Street and around the Llano Courthouse starting at 6 p.m. Dec. 2.
On Dec. 9, Llano plans a Snow Day from 1 to 9 p.m. Sled down 35,000 pounds of shaved ice. Wristbands are required for sledding and are $10 each or two for $15. For more information, go to http://www.llanochamber.org or call 325-247-5354.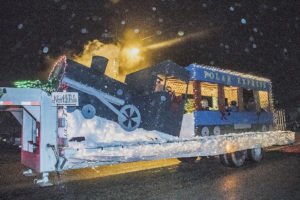 Goldthwaite
Holiday lights will twinkle for visitors who stop in Goldthwaite to explore local shops through Dec. 25. The city's 23rd annual Parade of Lights on Dec. 2 brings "Sparkles and Spurs: A Texas Christmas" to downtown. Floats begin their march at dusk, around 6 p.m., but visitors can take photos with Santa from 4 to 5 p.m. at the welcome center at the corner of U.S. Highway 183 and Second Street. There will be hot chocolate and cookies at the welcome center. For more information, call the Mills County Chamber of Commerce at 325-648-6319.
Blanco
The Old Blanco County Courthouse, at 300 Main St., and historic downtown square are lit up for the holidays. On Dec. 9, explore vendor booths and local shops from 9 a.m. to 4 p.m. before the lighted Christmas parade at 6 p.m. After the parade, stroll through the park to view the lights. For more information, go to www.blancochamber.com or call 830-833-5101.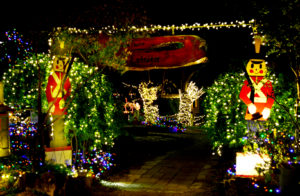 Wimberley
More than 100 light displays created by businesses, school groups, organizations and families fill a walking path for the 20th annual Trail of Lights at the EmilyAnn Theatre and Gardens in Wimberley, 1101 Farm-to-Market 2325. Walk along the trail from 6 to 9 p.m. Sunday-Thursday and 6 to 10 p.m. Friday-Saturday through Dec. 28, weather permitting, then warm up by the Yule log and enjoy live entertainment. Admission is free, but donations are accepted. Concessions are available, and pets and alcohol are prohibited. Santa will visit on Friday and Saturday nights, as well as nightly Dec. 15-23. For more information, go to www.emilyann.org/trailoflights.html.