From the Editor | December 2017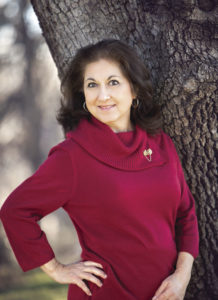 Dear Readers,
Every year when Christmas comes around we hear the message that this is the season of giving, of sharing and of joy; three values that seem to never go out of style in Bell County no matter what time of the year it is.
During the last three years that I've been editor of Tex Appeal Magazine, I've met many people who practice those values all year round. Their sense of giving extends beyond monetary or in-kind donations.
Temple Kiwanis Club member Barbara Burtchell is one of those people. A member of Kiwanis since 1991, she has been the chair of Santa Pal since 1999. With the help of her committee and volunteers and the H.E.L.P. Center of Temple, she coordinates the collection of gifts for hundreds of children in Temple who might otherwise not have a Christmas, Page 12.
Following along those lines is Linda Crowder, of Lakeview Baptist Church. Her husband, Bob, is the pastor. Each year volunteers spend hours packing boxes with just the right gifts for the region of the world they are destined with Operation Christmas Child, a partnership with the Franklin Graham Ministry and Samaritan's Purse, Page 30.
Being thousands of miles away from home during the holidays could be lonely for anyone. But for the exchange students from the ASSE Foreign Exchange Student Program many will be sharing their culture and customs with host families throughout Bell County. Students living with local host families for this school year represent China, Italy and Spain, Page 34.
If you are looking for a day trip or two out of the area consider cruising the Central Texas Hill Country Regional Light Trail. Eleven Central Texas towns light up for Christmas, from Boerne to Wimberley. Visit one or more of these close-by towns and enjoy a day of sightseeing and a night of lights, Page 56.
Hungry for some good old-fashioned Texas comfort food? Head to the Oscar Store in East Temple. Enjoy homemade, hand-crafted foods and desserts in a rustic setting, Page 16.
Whatever you decide to do, or wherever you decide to go, take a few moments for yourself and pour a glass or cup of your favorite holiday beverage and enjoy the December issue of Tex Appeal Magazine.
We wish you a safe and peaceful Christmas and a Happy New Year.
Catherine Hosman
Tex Appeal Editor
editor@texappealmag.com
254-774-5234