Homestyle fare at the Oscar Store
Story by CATHERINE HOSMAN
Photos by JULIE NABOURS
Newcomers looking for a great family restaurant can take a drive out to East Temple to visit the Oscar Store. The restaurant is recreated on the same property where the original Oscar Store burned down after a lightning strike in 2005. The only thing remaining is the original landmark sign outside.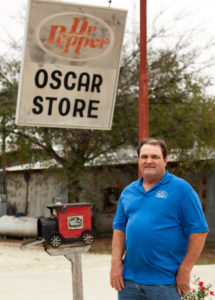 Thomas Maddux bought the property and reopened the store in 2009. He brought it back to life, rebuilding from the ground up, using materials he reclaimed from a demolition job he worked. The building, it's larger inside than it looks from the outside, is rebuilt from repurposed rustic materials.
When you walk in, you know you are in a true Texas country restaurant. Thomas and Lorianne welcome all with true Texas hospitality and good home cooking. A hint: It's time for Thomas' stew, but call ahead. It sells out fast.
The Oscar Store can seat up to 120 folks in the dining room. Adjacent party rooms can hold up to 100 people in each room. The menu is comfort food, highlighted by Lorianne's homemade desserts. She also lends her decorator's touch to the Christmas decor and trims her trees with relics from the past. You will need to look close as many of the items are hidden among the lights, ribbons and branches.
Chicken fried steak is the specialty at Oscar's. Thomas cuts and tenderizes his own meat. The steak is so tender you can cut it with a fork.
The Thomas Burger isn't for the faint of heart. It's a double meat patty topped with jalapeño, pepper jack cheese and grilled onions. All the hamburgers are freshly ground and hand-formed.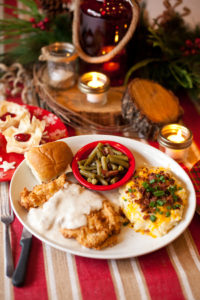 Chicken fried chicken, my favorite, is served hot with twice-baked potatoes and green beans.
Lorianne's cherry cream cheese pie is light and fluffy and made a perfect end-of-meal dessert.
Originally, the Oscar Store was an East Bell County beer joint. "When people come to Oscar's they come in a car, on horseback, in a buggy, on motorcycles, in a limousine and occasionally, a helicopter," Lorianne said.
It is uniquely family-oriented, and all the wait staff and cooks are considered part of the Maddux family. Thomas and Lorianne have seven children between them and Thomas said they have all worked at the restaurant in some capacity.
The store is a favorite of the older set and Thomas said he has already hosted five 100-year-old parties, and quite a few 98- and 99-year-old birthdays.
"People want to come here to celebrate their birthdays," he said. "We had two Temple High School reunions a week apart, one for 1956 another for 1962."
The Oscar Store caters off property for up to 500 people. It offers dine in and carry out.
If you go
Location: 8133 Oscar Spur, Temple
Hours: 11 a.m. to 9 p.m. Monday through Thursday; 11 a.m. to 10 p.m. Friday and Saturday; Sunday closes at 3 p.m.
Thomas and Lorianne Maddux shared their recipes for chicken fried chicken, twice baked potatoes and cherry cream cheese pie with Tex Appeal.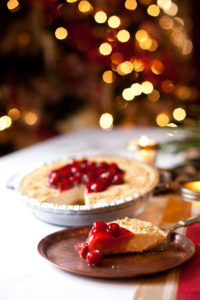 Chicken Fried Chicken
Serves four.
8 ounce boneless, skinless chicken breast
Lightly sprinkle lemon pepper
Lightly sprinkle fajita seasonings
Pinch of granulated garlic
Marinate for 24 hours in refrigerator.
1 cup of flour
1 pint of buttermilk
1 teaspoon Lowery's seasoning salt
Pinch of ground black pepper
Mix seasonings in the flour.
Double dip the chicken breast in buttermilk and seasoned flour.
Deep fry at 350 degrees for 7 minutes.
If you don't have a deep fryer at home, fry in pan for 5 minutes on each side.
Twice Baked Potatoes
Preheat oven to 350 degrees.
Makes four servings.
5 large white potatoes
¾ cups sour cream
½ stick of butter, softened
Chopped green onions to taste
½ cup cheddar cheese
2-3 tablespoons bacon, crumbled
Salt and pepper to taste
Boil or bake potatoes. Remove cooled potatoes from the shell. Mix and mash potatoes with sour cream and butter. Place mixture in a 9-inch by 13-inch baking dish and bake for 30 minutes. Remove from oven.
Spread the cheddar cheese, bacon bits and green onions on top. Serve warm.
Holiday Cream Cheese Pie
"When the holiday season is busy and everyone is rushing around, this is a great dessert that is fast, easy and delicious and has been in our family for years," Thomas Maddux said.
1 teaspoon vanilla extract
1/3 cup fresh lemon juice
1 (14 ounce) can sweetened condensed milk
1 (8 ounce) package cream cheese, at room temperature
1 (21 ounce) can cherry pie filling, chilled
9-inch graham cracker crust (see recipe below or use a store-bought crust)
In a mixing bowl, beat the cream cheese until light and fluffy.
Gradually add sweetened condensed milk; beat on low until mixed well, scraping the bowl between mixing.
Stir in lemon juice and vanilla. Pour into prepared graham cracker crust and refrigerate for two to three hours.
Add chilled cherry pie filling to the top and decorate with remaining graham cracker crust.
Graham Cracker Pie Crust
8 whole graham crackers crushed
¼ cup sugar
1/3 cup melted butter
Preheat oven to 375 degrees.
Mix all ingredients until well blended in a bowl.
Press firmly onto bottom and up side of 9-inch pie plate.
Bake 8 to 10 minutes or until lightly browned.