Show off your sweet side: Cake creations
Lily Halabi of Lily's Cakes in Harker Heights and Temple said all of the wedding cake trends she saw in 2017 seem to be carrying over into 2018.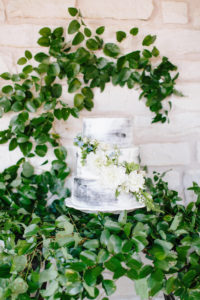 "With just a little more art in them, they are more artistic," Halabi said. "Semi- naked cakes, marbled cakes, fondant and geode cakes are still popular."
Naked cakes are in high demand, and instead of making one big tiered wedding cake, some brides opt for three separate cakes with descending tiers, each tier with its own flavor.
"We're doing that a lot," she said.
Grooms cakes are still in fashion but have progressed over the years to reflect a groom's personality.
"Grooms cakes are becoming fancier and fancier," Halabi said.
Grooms today want carved 3-D designs. For example, if a groom wanted a whiskey barrel, Halabi said she would stack the cakes, let them cool, and then shave the cakes in the desired barrel shape.
"One groom wanted a wild hog because he hunts. We make the cake, stack it and let it cool, then cut it into the shape of a hog."
Sea bass cakes are popular with fisherman, and Yeti cooler cakes are in demand.
"Grooms are personalizing their cakes, especially if they are into something special like hunting or sports," she said.
Halabi said even brides themselves are becoming more personalized with their cakes.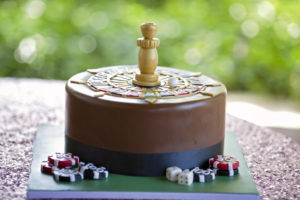 "Brides don't want anything simple. They want elegant wedding cakes with several tiers and with different designs. Taste is not as simple as it used to be with just a white cake, now there are more details, more designs, edible lace, edible gold painting, cakes are trendier, more sophisticated now."
One trend that is adding more sugar to the party is the sweet table, traditional in some European cultures, the sweet table, or mini-dessert bar, has made its way to American weddings.
Unlike the European tradition where pastries were made by family members, today's sweet table offers a variety of miniature cookies, cakes, cake pops and even donuts.
"We do mini cupcakes, cake parfaits that come with a spoon (two weddings we did requested banana pudding and Oreo pudding) and mini pies. My bakery specializes mostly in the cupcakes, cake parfaits and five or six flavors of pies, mini and full size."
Brides are still freezing the top layer of their wedding cake and to make is a little easier, Halabi makes the couple a separate five-inch cake in the flavor of their choice so they don't have to take the top tier off the cake to freeze it.
"It's decorated the same as their wedding cake," she said.
When the time comes to celebrate that first year of marriage, Halabi said let the frozen tier defrost 24 to 36 hours in the refrigerator before serving.
Lily's Cakes
360 W. Central Texas Expressway #204
Harker Heights | 254-319-3555
2102 S. 31st St., #140
Temple | 254-813-9700
Lily Halabi is the guest speaker at the 2018 Day for Women on Feb. 17, in Temple. She is the winner of Food Network's Cake Wars.