Favorite flavors and cake trends
Shellie Campos of Pink Tulips Cakery said bridal couples can be as creative as they want when it comes to their wedding cakes.
"Brides today are not held to a strict tradition," she said. "It's really changed from decades ago when brides always had the three-tier cake with the bride and groom on top. That's not the case any longer. The sky is the limit."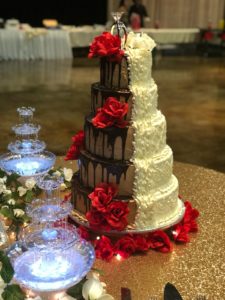 Creative wedding cakes
New is the half and half cake. Half of the tiered cake is lacy and delicate for the bride and the other half is chocolate or decorated for the groom. "It's an all-in-one cake so both are on display at the same time," she said.
Multiple single-layer cakes are becoming popular, each a different flavor. "One bride wanted eight different flavors of cakes in different designs," she said.
Painted cakes are growing in popularity and Campos said, "It's one of my favorite things to do.
"I did a peacock wedding cake with lots of vibrant colors. Anything goes. There is no right or wrong," she said. "I love painting on cakes. It adds a different dimension or option. It displays your personality."
Cakes can be as extravagant or as simple as you want. It can be an all white cake with sugar flowers, or something that reflects a hobby, like a world map cake she made for a couple who loves to travel. Some brides still want bling with a little bit of edible lace. "Not too many brides ask for pearls. Edible lace seems to be the trend," she said.
Campos said flowers as cake decorations don't go out of style and price depends on what kind of flowers you choose. "Silk flowers will look realistic. You can use artificial or real flowers," she said. "Cake designers are very creative when it comes to meeting whatever a bride's budget is."
Butter cream has made a comeback. "It has a great flavor on its own or you can add flavor to it," Campos said. "But it could be tricky if the wedding is outdoors in the middle of a Texas summer. It cannot be outside in 100 degree heat."
Fondant, which also can be flavored, holds well in warmer weather. "It tastes better then what people think."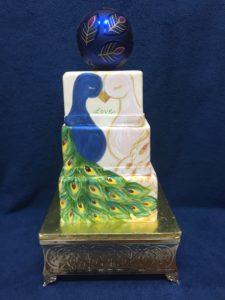 Traditions and trends
As much as some brides personalize the outside of their cake with something different, flavors remain traditional.
"Some brides will pick different flavors for one of the other tiers," Campos said. "More often than not, they are choosing French vanilla or one of the traditional flavors like lemon, strawberries and cream, key lime, cherry — we do all different kinds of cakes."
For a recent wedding Campos got a request for a new flavor. "We created vanilla cinnamon. It was really good. … There was no cake left over," she said.
Another new trend is the dessert bar. Brides are requesting mini-sweets in the way of cake pops, cupcakes and cookies, candies and homemade pastries. "Cake pops and mini pastries are popular for the rehearsal dinner. Couples don't want a cake, just something a little sweet. They can design the cake pops to match whatever they like."
One of Campos' wedding parties had an Alice in Wonderland theme. She said everyone dressed up in Alice in Wonderland costumes and the bride wanted cake pops to match. Other brides want mini cookies, and some brides want several cakes on the dessert table.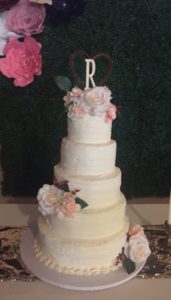 When to book
Book a baker as soon as you know your wedding date, and be prepared to make a deposit. "Have your baker booked so you get the cake you want and the baker you want, especially if the wedding is during April, May, October and November. Those dates book quickly," she said.
Campos recommends that brides have an idea of what they want when they come in to see her, but also to be realistic about pricing. "A lot of brides come in with their fiancé or parents. They've gone to Pinterest to find some ideas, but come with different ideas and themes in mind, which helps a designer make a cake specifically for you," she said. "A baker will not copy a cake exactly. And keep in mind the budget. For a cake with all the bells and whistles — six tiers, elaborate design, botanically correct sugar flowers — be realistic of what your budget will be."
Campos said all bakeries will offer a cake tasting. "This gives you a chance to see which flavor you will like, and it gives the baker a chance to know you and you them."
Cakes range in price depending on design. A basic cake will cost $4 to $4.50 per slice. Campos said when you start looking at something more elaborate like hand-made botanically correct sugar flowers, expect a higher cost.
"When you are looking at a cake on Pinterest that is absolutely stunning, think about how much time a baker has to put into that cake, which will reflect in the price per serving," she said. "Keep that number in the back of your mind and think about budget."
And be upfront with your baker. Campos said there are other ways bakers can be creative to design the cake you want and work within your budget.
"Compromise is not a bad word," she said.
Pink Tulips Cakery
254-598-5318
www.pinktulipscakery.com