Walk with a Doc gets community moving
Story by CATHERINE HOSMAN
Contributed photos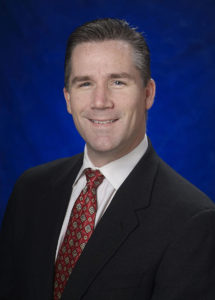 Dr. Todd Bohannon, a vascular surgeon at Baylor Scott & White Temple, wants to help people to get up off their couches and go outside for some fresh air and take a walk in the park.
On the third Saturday of every month he leads a group of people on a two mile hike around Miller Park with Walk with a Doc, an initiative he organized in Temple.
Bohannon was first introduced to Walk with a Doc three years ago when Dr. Susan Pike, the Physician Champion at BSW Round Rock (in partnership with the Williamson Medical Society) invited him to be the guest speaker at a monthly walk in Georgetown.
He was also invited to walk with the group.
"Our counterparts in Round Rock successfully launched a Walk with a Doc program a couple of years before us," said Marketing Manager Stefanie Hall, Temple region. "Dr. Bohannon was asked to be the featured physician at one of their walks, which introduced him to the national program."
"It was so much fun I wanted to do something in our area," he said.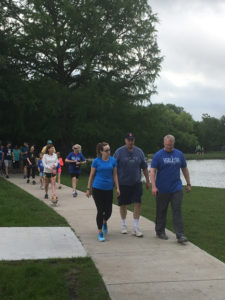 Bohannon spearheaded Walk with a Doc BSW/Temple in partnership with the City of Temple. He formed a committee that includes Hall; David Hoellen, Scott & White Health Plan; Tara Stafford BSWH Community Benefit Department, and Amanda Weckbacher, Temple Mayor's Council on Physical Fitness.
"Each walk involves several moving pieces — from securing the month's physician, marketing the upcoming walk and topic and picking up donated food from our amazing partners H-E B, and setting up wayfinding signs around the park," Hall said.
WWAD Temple launched on Feb. 20, 2016, with Dr. Patsy Sulak as the guest speaker. Next month they will celebrate their second year promoting a healthier lifestyle.
A way to give back
Bohannon said as a medical community Temple has a lot to offer and ways to promote wellness and health through resources and multiple specialties. By coming together with people outside of a clinic setting he said that doctors could share their professional knowledge on multiple health topics.
"Americans lead a sedentary way of life. It's not easy to start exercising," he continued. The cheapest and healthiest way is to walk. Help people get up. Get healthy now and the place to come each month is Miller Park where people can get ideas to stay healthy."
There are no judgments, he added.
"It's just a place for people to come and learn about how to better take care of themselves. Guest speakers present topics of interest on just about any medical specialty, with the goal being that everyone gets up and moves.
"WWAD has helped the community see how easy it is go get moving," Hall said. "When we think of being active, I think we often feel like that person at the base of a 10,000 foot mountain. We simply don't know where to begin, WWAD is that first step that shows you don't have to start running marathons to get active."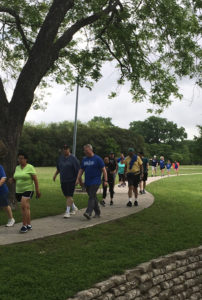 Sitting is the new smoking
In the past several years the Surgeon General compared a sedentary lifestyle to smoking, and starting an exercise program is almost as hard as quitting smoking. It can be done, but takes will power, Bohannon said.
"To be sedentary means risk factors for an unhealthy lifestyle that could include cardiovascular issues, uncontrolled high blood pressure, diabetes, high cholesterol, and can lead to early death.
And if you don't smoke, don't start, or find a way to quit. It's a hard thing to do, but it is a caring thing to do," Bohannon said.
Bohannon said walking gives people a sense of well being, and every life could get better.
"It takes awhile for the body to change, but you will see weight loss," he said, adding that it takes an effort to become active.
To get started with exercise after a period of being sedentary, Bohannon advises not to buy expensive equipment.
"Buy properly fitted walking shoes and socks. Start walking 30 minutes a day. Go to the mall, gain confidence and find a local gym or YMCA. Or come and Walk with a Doc once a month. People are there to guide you along."
No excuses
Walk with a Doc was founded 10 years ago in Columbus, Ohio, by Dr. David Sabgir, a cardiologist who invited his patients to join him on a walk around a local park on a Midwestern spring morning. One hundred people joined him.
Since that first walk, this grassroots effort inspired medical communities around the globe to initiate a Walk with a Doc program.
"It's a first step in taking control of your health," Bohannon said.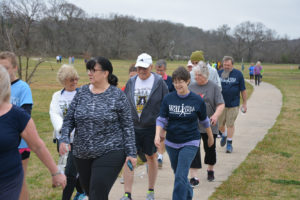 If you need more reasons to turn off the TV or computer and join Dr. Bohannon for a walk, take a look at the Walk with a Doc website walkwithadoc.org/why-walk and view 100 reasons why you should begin a walking program.
And if you think walking is just about losing weight and feeling well, those are just two benefits to getting up and moving, but that leaves 98 other reasons to ponder. When you click on one of the 100 Reasons to Walk buttons you are directed to pages of information that will inspire you to get up and move. This inexpensive, easy-to-do exercise is for people of all ages, and all fitness levels.
"We're here to let our community know our medical center, health plan and the City of Temple care about our citizens," Bohannon said. "Even those not walking can see we have things out there that are at no cost to them."
Hall said by walking together once a month and providing health-related education, the hope is that the community members are encouraged to be active throughout the month to see those positive health benefits.
"And, I think a lot of friendships have formed through the group as well, so it has served as a way to get to know other members of the community," she said.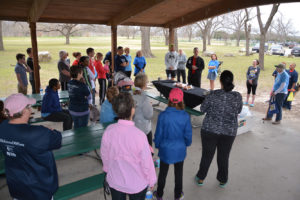 This free program includes a speaker, healthy snacks, bottles of water and the walk. Participants are also able to ask doctors questions one-on-one about health issues.
Different doctors from a variety of specialties are invited to speak. And even though each month brings a different guest physician speaker, Bohannon is always on the trail, walking with the group. Another added benefit from Walking with a Doc is building relationships with patients outside of a clinic setting, he said.
"We are interested in their lives and their issues," he said. "I enjoy talking with them and hearing about them. I enjoy hearing their problems and successes. It makes my doctor/patient relationships with them better."
Benefits derived from walking include a reduction of stress, as an aid to reduce blood pressure, improve diabetes, aid in weight loss and mental well being.
"All this has been proven," Bohannon said.