Neighborhood eatery offers good food with a personal touch
Story by Catherine Hosman
Photos by Richard Creed
Sam Yarbrough, owner of the Good Life Bakery Café in Temple, has been in the restaurant business all his life. He grew up in Waco and worked at a neighborhood pizza restaurant during high school and on college breaks from Texas A&M College Station.
After college he and his sister opened a bakery in College Station where he worked for eight years before joining the management staff of a national chain restaurant. Yarbrough spent 11 years managing restaurants in Austin, where he met his wife Dianne, a registered nurse, and Fort Worth native, on a party boat on Lake Travis.
With family spread out across Central Texas they regularly visited relatives in Temple, Waco and further north in Fort Worth, but they wanted to be closer. They were looking for a central location that would keep them close to Austin and near family.
"Temple is an up and coming market," Yarbrough said. "I saw the growth potential on the west side of Temple and felt that West Adams would be the perfect location for his business, and also be convenient to sailing on Belton Lake.
This past February, Good Life Café celebrated three years in business.
"We have a little bit of a niche here. I get to offer my favorite foods other than seafood and pizzas. Sandwiches are made fresh every day on homemade bread."
Customers can choose from a variety of sandwiches, soups and salads. Yarbrough's sandwich bread is light, airy with just the right amount of crisp when you bite into it. Tiny craters absorb the flavors of the ingredients. For example, when he makes his turkey provolone sandwich, one of his best sellers, the garlic butter and cheese melt together into the bread for a symphony of flavor.
Another one of his specialties is his chicken pot pie made fresh with cream cheese gravy. Nine inch pies are frozen and can be purchased to bake at home for dinner, or you can dine in and enjoy a whole pie with family or a slice for one.
For folks with a sweet tooth, watch for his daily select desserts. They can range from Italian cream cake to chocolate fudge pie and cookies. During the holidays he makes seasonal pies for his customers.
IF YOU GO
Good Life Bakery Café
7348 W. Adams, #500, Temple
Phone: 254-295-0610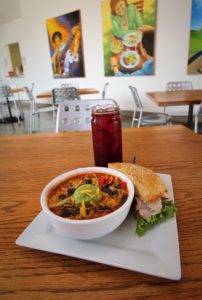 Sam Yarbrough is trying out new seasonal soups in his café and shared his recipe for Chicken Tortilla Soup with Tex Appeal Magazine, paired here with a turkey provolone sandwich.
Chicken Tortilla Soup
2 tablespoons extra virgin olive oil
½ pound skinless chicken breast diced
½ cup diced yellow onion
¼ cup diced red bell pepper
½ cup diced or shredded carrots
1 teaspoon minced garlic
Sauté the above ingredients over medium heat until evenly brown, stirring frequently.
In a food processor combine the following ingredients for 3 minutes, until well blended:
1 cup chicken broth
3 cups diced tomatoes in juice
¼ cup medium picante sauce
1 teaspoon ground cumin
½ teaspoon chili powder
¼ teaspoon ground black pepper
Dash of Louisiana hot sauce
Add the tomato mixture to the sautéed chicken and vegetables.
Heat to boiling over medium heat.
Reduce heat and simmer for 15 minutes, stirring occasionally.
Top with tri-blend tortilla strips when serving.
Garnish with guacamole and shredded cheese to taste.