Story by SALLY GRACE HOLTGRIEVE
Photos by RICHARD CREED, JULIE NABOURS and contributed by ANGELLIA POINTS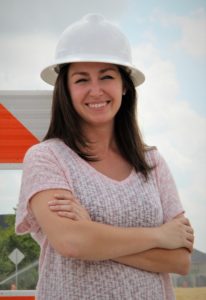 Leaders ask great questions.
The key to success is to work hard and be nice to people.
Heels go best with a hard hat.
These are the beliefs of Angellia Points, 30, Belton's city engineer and director of public works.
Points manages all of the city's water, sewer, streets, drainage and construction projects and oversees about 40 staff members. She rose to her current position rapidly, but has not been deterred by the intense, additional responsibilities. She learned how to work hard and secure results a long time ago.
Growing up in East Mountain, Texas, she was the first member of her family to attend college. Although she enjoyed school, college was not an option early on. Points said she'd picked out what department she wanted to work in for the rest of her life at a local store and was really excited about that choice, until ninth grade, when her geometry teacher conducted a spaghetti bridge building contest.
"I won," Points remembered. "My teacher said 'you're really good at this, maybe you should be a civil engineer.' I started thinking about it. I loved math and science and thought it might actually be pretty cool to build something one day. Now I thank him every chance I get for changing my life."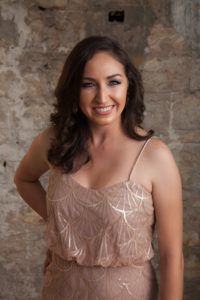 She graduated valedictorian from Union Grove High School. After online research and seeking advice from school counselors, she selected the engineering program at Southern Methodist University. Points said it was small and close to home, exactly what she was looking for. Being a female from a low income household with an interest in engineering made her a prime candidate for scholarships and grants. She paid for all remaining costs on her own, at one time working three jobs while in school.
"I was very strategic about my jobs," she said, acknowledging her constantly calculating, engineer's brain. After Hurricane Katrina, she worked for an engineering corporation and helped analyze the levees in New Orleans.
"My other job was tutoring," she said. "I did that because I liked it, but also, if no student showed up I got to study and do my homework. My third job was working at the rock climbing gym. This was strategic because I wanted to stay active, and when nobody was rock climbing I got to work out."
Her desire to excel was intrinsic. She found satisfaction in getting and excelling at school.
"I just knew if I wanted something I had to work for it," she said. "If I had my mind set on something I just went after it. Whatever I had to do, I did it."
Most engineering programs have more males than females, Points said. Southern Methodist University created an initiative to have 50 percent female and 50 percent male engineering students, and Points was excited to be a part of that goal, which has since been achieved.
"They say girls aren't as good at math and science, but I don't think that's true," she said. "That's some girls' passion. It was my passion. Now it's not odd for me to go to a meeting in my field and be the only female there. However, there are lots of programs encouraging girls in STEM, and I think girls are getting more into the IT world with coding, computers and cell phones. It's getting better."
Advice from Points to prospective engineers: If you want it, go get it. Educate yourself. Go find jobs where you work with your hands and don't be afraid to get dirty.
"But be willing to wear heels while you get dirty," she added. "You don't have to be one side or the other — a tomboy or a girly girl. You can be a girly girl and love talking about sewage."
After receiving her undergraduate degree in civil engineering, Points obtained a grant from the university to get her master's in environmental engineering. In between degrees, she married the man she'd started dating four years earlier.
A two-step romance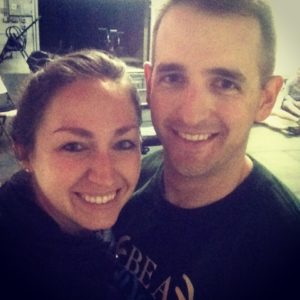 Points met Alex on her 18th birthday. As a freshman in college away from home for the first time, she was quiet and introverted, but decided she wanted to celebrate, so she reached out to an old friend who invited her to a country western dance club, and Points agreed to go.
"She ended up ditching me that night," Points said. "It was the first time I'd been to a bar and I was out of my element. Then I saw this guy looking at me from across the dance floor and he mouthed, 'Are you OK?' and I said, 'No, not really.'"
Later, the couple realized the same girl who ditched Points had also invited Alex to the dance club on a date, but had left him on a whim as well. "He came over and asked me to dance," Points said. "We ended up talking from there."
They've been married eight years.
After obtaining her Masters, Points spent three years working at a consulting firm in Dallas, where she worked on a specialized type of wastewater treatment. Then Alex decided to join the Army and the couple was sent to their first duty station: Fort Hood.
"When we came here I started working from home for the same company," Points said. "But working from home was not good for me, I need to be working with people. I was lonely and I wasn't connected, so I began looking around for a new job."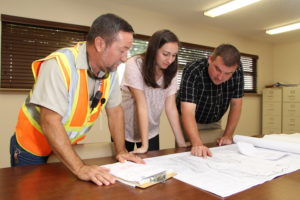 When the City of Belton hired her as the assistant director of public works, Points was thrilled, as her heart is in the public sector. She keeps a poster tacked to her office wall that reads "it all starts with water" and depicts the silhouette of a woman carrying a water jug atop her head. To Points, the print sums up why she goes to work every day.
"I went on an Engineers Without Borders trip to Guatemala while in college," she said. "That influenced me a lot. As a Christian, I believe that if you don't provide people with their basic needs — water, food, and shelter — they won't follow Jesus. If a woman is spending all of her day going to get water, she's not in church or fellowship with people. I feel like if I provide for people's basic needs, then they can live their life."
In November 2015, Points became city engineer, and in February 2017, Points also became director of public works and combined the two departments. She said she feels she can help the most people by working in the public sector.
The rapid upward mobility has been a roller coaster, Points said, adding that she could never have succeeded without her staff members. She explained that they do the heavy lifting, while she supports and enables them.
"Leaders ask great questions" was the current quote Points had scrawled across her large office white board. She said she strives to find out how she can best equip her staff for success. For example, one of the departments she oversees works on the city's vehicles.
"I don't even know how to change oil in a car," Points admitted. "But, I know how to ask great questions. I have to trust that the mechanics know how to do their job, but I can also ask them why a vehicle has been down so much instead of saying something like, 'why don't you fix it?'"
Belton City Manager Sam Listi said Points performs her tasks and assignments with the professionalism of a seasoned veteran. "We have had two major reorganizations of the Public Works Department in 18 months, each time resulting in substantially increased responsibility for her," he said. "Angellia accepted each challenge with an ever stronger commitment to serve the Belton community in each new role."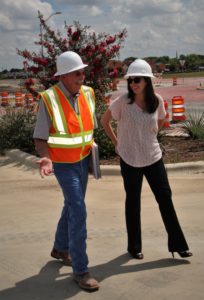 Servant leader
Listi said Points exhibits the characteristics of a servant leader. She relies on her public and private engineering experience, but is always willing to learn, to evaluate and to recommend an approach based on her findings, he said, adding that Points is also very conscientious and respectful of residents, employees and other professionals she encounters in the workplace.
Everyone wants to feel like they have ownership of their tasks, jobs and lives, Points explained.
"We feel good when we can take something and run with it and make it our own," she said. "We all like to be creative in our own way. So if I have a construction inspector, I want to equip him and support him. If he's the best he can be, then that makes my job easier and it builds trust."
Points has recently stepped into a leadership role at home, as well. On their eighth wedding anniversary, she and Alex welcomed a 12-year-old into their home.
Her cousin, Allison, was in a bad situation, so Points agreed to take her in and obtained official custody at the end of August. Points said Allison is an amazing girl and has been excelling in school since she moved, adding that most of her own time outside of work is now spent learning how to raise a 12-year-old. "I've been helping her with school, introducing her to the community, being involved with whatever she wants to be involved with, and learning how to be a parent," Points said. "That's been different, but I have a lot of good role models here."
Together they play video games, watch Netflix and cook dinner. Points said she believes the world can be positively changed through the encouragement of a child.
"Tell them you believe in them," she said. "That's all it took for me, so that's what I'm hoping to do with Allison, to just show her somebody in this world believes in her. That's all someone needs to launch and succeed."